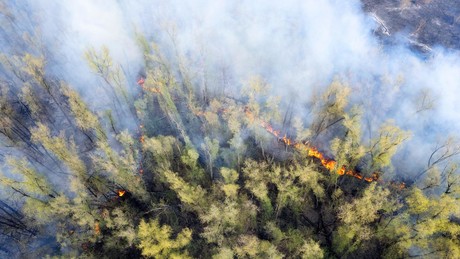 To Declarations The Russian forest authority "Awialessoochrana" has extinguished 36 forest fires on an area of ​​7,090 hectares in Russia in the past 24 hours. On August 5 at 12:00 a.m. Moscow time there were 130 major fires in forest areas in Russia, covering an area of ​​126,400 hectares. The fire brigades are currently actively fighting the fires.
Every year in Russia there are numerous large fires in the forests. In percentage terms, the numbers may seem small, but they are actually hundreds of thousands of hectares. The fire often spreads to residential areas. Then acrid smoke fills the cities and harms the health of the local people. Most of the time, however, man is the cause of the fire. According to the Russian Forest Service, 52.2 percent of Russia's territory is covered by forests, and 0.29 percent of the total forest area has been affected by forest fires since the beginning of 2022.
Yakutia (51,463 hectares), the Khanty-Mansi Autonomous Okrug, also called Ugra (40,426 hectares), and the Magadan region (20,346 hectares) are currently the most affected. Large areas of forest are burning in the Khabarovsk Territory (5,877 hectares), in the Chukotka Autonomous Okrug (2,655 hectares) and in the Komi Republic (2,646 hectares).
more on the subject – Forest fires in Europe: is the heat wave always to blame – or is it also a matter of calculation?