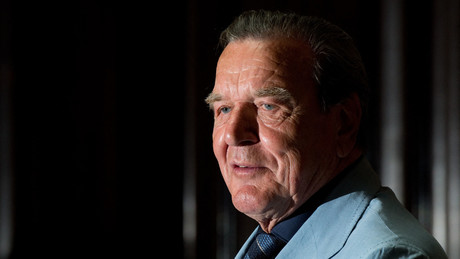 3 Aug 2022 4:00 p.m

Vladimir Putin met former Chancellor Gerhard Schröder personally in Moscow last week. According to Russian presidential spokesman Dmitry Peskov, they mostly discussed European energy security.
Ex-Chancellor Gerhard Schröder is said to have personally expressed his concerns about the developing energy crisis in Europe to Russian President Vladimir Putin. This was reported by the Russian presidential spokesman Dmitry Peskov. Literally it said:
"Of course, the former Chancellor – like probably all thinking and knowing people and experts in Europe – is very, very concerned about the reality and about the energy crisis that is unfolding in Europe."
Peskow pointed out that Schröder had expressed concern about the "anything but rosy prospects" in the energy sector. He therefore asked Putin to explain the Russian side's view of the situation. At the same time, the former chancellor asked whether Nord Stream 2 could be activated at all in a crisis situation "purely hypothetically speaking". In addition, Peskov emphasized:
"And Putin wasn't the initiator, Putin didn't suggest it. But Putin said it's technologically possible, a lot of work has been done. And this Project, a more complex Mechanism, is ready for use."
The Russian President's spokesman stressed that the Kremlin has a recording of the conversation between Putin and Schröder in case "anyone decides to play around with the content." Schröder visited Russia last week. He initially told reporters he was on vacation, but his wife admitted in an interview with the Spiegel known that the former politician was holding talks about energy policy.
After his trip, the former Chancellor stated in an interview with Stern and n-tvthat the launch of Nord Stream 2 is the "easiest solution" for the current situation. He pointed out that if things get really tough, both Nord Stream pipelines are available. The former chancellor was also convinced that the conflict in Ukraine would not be resolved without negotiations. An agreement concluded at the end of July on the export of grain from Ukrainian ports could lead to a ceasefire.
more on the subject – Without harmony between Germany and Russia, Europe can neither be secure nor prosperous
By blocking RT, the EU aims to silence a critical, non-pro-Western source of information. And not only with regard to the Ukraine war. Access to our website has been made more difficult, several social media have blocked our accounts. It is now up to all of us whether journalism beyond mainstream narratives can continue to be pursued in Germany and the EU. If you like our articles, feel free to share them wherever you are active. This is possible because the EU has not banned our work or reading and sharing our articles. Note: However, with the amendment of the "Audiovisual Media Service Act" on April 13, Austria introduced a change in this regard, which may also affect private individuals. That's why we ask you not to share our posts on social media in Austria until the situation has been clarified.