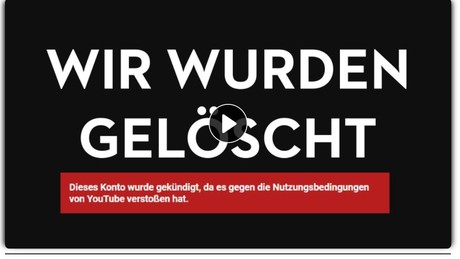 The video portal YouTube, a subsidiary of Google, has deleted the channels of the international documentary group OVALmedia. The deletion took place without warning. The group's non-German speaking channels were also affected. OVALmedia recently received media attention due to critical productions against the Corona measures.
The OVALmedia group of companies was founded in 1998 by the filmmakers Robert Cibis and Lilian Franck founded. It includes OVALmedia Berlin GmbH, OVALmedia Cologne GmbH and the companies OVALmedia Paris SAS and OVALmedia Rome SRL. By 2020, the productions had received several awards, including the young talent award of the Franco-German Journalists' Prize. The documentary filmPianomaniawas shown in cinemas in 25 countries from 2010 and received several awards, including the film rating "particularly valuable". Productions for broadcasters followeduntil and 3Sat.
From 2020, the company dedicated itself to the topic of Corona. OVALmedia regularly broadcast the meetings of the "Foundation Corona Committee" as part of a live stream and interviewed for different formats such as Collateral, Narrative or Voices, critic and victim of German Corona policy. Company owner Robert Cibis commented the surprising deletion of all OVALmedia channels on YouTube with the words:
"We think that this event can only be politically motivated!"
The removal of the channels came as a surprise, as the well-known procedure of a previous three-time warning (strikes) by YouTube did not take place in this case. The YouTube Copyright Strike is a copyright monitoring technique used by YouTube to manage copyright infringement. Robert Cibis on Twitter:
"This deletion shows in a dramatic way how the freedom of the press in Germany can be restricted by large corporations."
As early as March 2021, the US video portal Vimeo deleted the OVALmedia documentary "CORONA.FILM – Prologue".
More on the subject – Popular uprisings or submission – how will the Germans react in the fall?