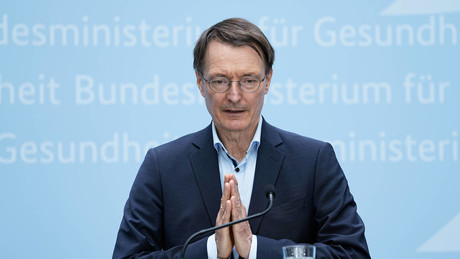 The health insurance contributions are becoming more expensive: On Wednesday, the federal cabinet launched a legislative package that is intended to compensate for the deficit of around 17 billion euros in the statutory health insurance funds in the coming year. Among other things, the draft provides for an increase in the average additional contribution for the approximately 57 million members of the statutory health insurance funds by 0.3 percentage points to 1.6 percent. However, there should not be any cuts in performance.
The total contribution also includes the general rate of 14.6 percent of the gross salary, with the health insurance companies setting the additional contribution themselves. According to Federal Health Minister Karl Lauterbach (SPD), this is a "very moderate" magnitude. The contribution increase should bring around five billion in revenue. A federal subsidy of two billion euros and a loan of one billion euros are also planned.
Furthermore, other measures such as the reduction of financial reserves, contributions from the pharmaceutical industry and austerity measures in the health care sector are intended to help close the gap. According to Lauterbach, the reasons for the historically high deficit are the aging of society, new expensive technology and fewer contributors. There are also costs due to the Corona crisis.
Criticism of the Minister of Health's plans came from representatives of the statutory health insurance companies. Jens Baas, head of Techniker Krankenkasse (TK), said the Düsseldorfer Rheinische Post on Friday:
"The plans are a particular burden on those who pay contributions. With higher contributions and their reserves, they are intended to close most of the billion-dollar gap in statutory health insurance, which has arisen primarily as a result of political decisions in recent years."
The distribution is unfair and only shifts the problems into the future. Instead, "real reforms" are needed. In detail, Baas demanded that the federal government pay more for the financing of Hartz IV recipients and referred to the coalition agreement:
"There, the increase in the subsidy for recipients of unemployment benefit II is promised, since the contributions are currently anything but cost-covering."
The head of AOK Rhineland/Hamburg, Günter Wältermann, also described Lauterbach's plans as "extremely thin". It is questionable whether they will even be sufficient for the year 2023:
"The measures are mainly at the expense of the contributors, a blatant social imbalance."
He also sees with concern that both the statutory long-term care insurance and the social long-term care insurance are not sufficiently financed for the next few years.
More on the subject – Because of Spahn and Corona: Lauterbach wants to increase health insurance contributions by 0.3 percent in 2023