Liz Truss and Rishi Sunak are fighting for the coveted Tory presidency and with it the post of the new British Prime Minister. However, the second TV duel ended abruptly. Just as the current foreign minister started to scold Putin, the presenter collapsed.
It was the second duel between the two candidates to succeed Boris Johnson. Foreign Minister Liz Truss and ex-Finance Minister Rishi Sunak exchanged views on the broadcaster on Tuesday evening TalkTV an exchange of blows, when suddenly there was a rumble and finally a bang. During the televised debate, along with the tabloid The Sun was held, presenter Kate McCann collapsed.
NOW – UK debate goes off air after massive crash in the TV studio.Liz Truss rushes off stage.The TV presenter Kate McCann collapsed during debate for UK's next prime minister. pic.twitter.com/kz2tUlqGxB

— ZaklinaCrystal7 🗣🗣 (@ZaklinaCrystal7) July 27, 2022
Liz Truss was just about to explain that it was imperative to stand up to Russian President Vladimir Putin because "if he were successful in Ukraine he would not stop there, but would question democracy and freedom" when suddenly she interrupted and exclaimed "Oh my God" in shock.
The presenter, who could not be seen in the picture, had probably lost consciousness. She fell to the ground. The broadcaster announced a little later that, on medical advice, the debate would not be continued.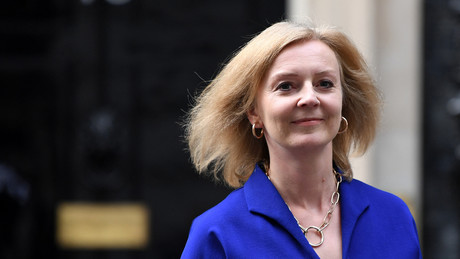 McCann should have that evening together with her colleague Harry Cole from The Sun should moderate the duel, but he had previously tested positive for the corona virus and stayed away from the show.
It is not yet known why the political editor collapsed. Speculation immediately arose on social media. some users brought a corona vaccination as a possible cause. Exactly one year ago, McCann himself wrote about the possible side effects of vaccines against SARS-CoV-2 employed. Among other things, it dealt with the topic of the change in the female cycle after a corona vaccination and possible causes for this.
Final one on periods – Did you know (I didn't) that Covid-19 infection affects periods in 25 per cent of women? Another top @VikiLovesFACS fact. Hope this thread helps. For what it's worth – I had the vaccine, my period changed and I will still get my second jab in a few weeks

— Kate McCann (@KateEMcCann) July 7, 2021
Shortly after the incident and the cancellation of the broadcast wrote Liz Truss tweeted that she was "relieved" to hear the presenter was "doing well." Your fight for the Tory presidency continues. In the coming days, the approximately 180,000 members of the party are to receive ballot papers with which they can vote by post for either Truss or Sunak by the end of August. The final result is to be announced on September 5th. The winner is then to move into Number 10 Downing Street in place of Boris Johnson.
more on the subject – Media reports: Boris Johnson could become NATO Secretary General
By blocking RT, the EU aims to silence a critical, non-pro-Western source of information. And not only with regard to the Ukraine war. Access to our website has been made more difficult, several social media have blocked our accounts. It is now up to all of us whether journalism beyond mainstream narratives can continue to be pursued in Germany and the EU. If you like our articles, feel free to share them wherever you are active. It's possible because the EU hasn't banned our work or reading and sharing our articles. Note: However, with the amendment of the "Audiovisual Media Service Act" on April 13, Austria introduced a change in this regard, which may also affect private individuals. That's why we ask you not to share our posts on social media in Austria until the situation has been clarified.