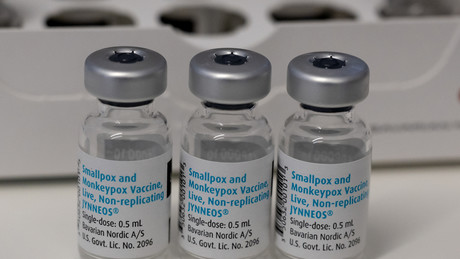 The World Health Organization (WHO) has declared the monkeypox outbreak an "emergency of international concern" in more than 50 countries. This was announced by WHO Director-General Tedros Adhanom Ghebreyesus at a press conference on Saturday. The classification is intended to increase the awareness of member countries, but has no immediate consequences, as governments themselves decide on any measures in their countries.
As CNBC reportedthe classification means that the WHO now views the outbreak as such a major "threat" to global health that a coordinated international response is needed to prevent the virus from spreading further and a possible pandemic.
Although the declaration does not impose any obligations on national governments, it should be understood – at least according to the WHO – as an urgent call for action. The WHO can only provide its member states with information and recommendations, but cannot set any specifications. Member states are required to report events that could pose a "threat to global health," it said.
Tedros named the number of just over 16,000 confirmed cases worldwide in more than 60 countries, many of which are said to have previously not recorded monkeypox cases. There were just over 240 cases in six African countries where the virus has infected people in the past. In Germany, the Robert Koch Institute reported almost 2,300 infections on Friday – almost 14.4 percent of the "cases" found worldwide.
A committee of – as it is emphasized – "independent experts" could not previously agree on a joint recommendation as to whether an emergency should be declared. The English abbreviation for an emergency is PHEIC, which stands for "public health emergency of international concern".
The WHO also declared the outbreak of the SARS-CoV-2 coronavirus as such an emergency on January 30, 2020. However, this does not mean that the same measures as in the Corona crisis can now be expected in the case of monkeypox.
While the coronavirus spreads through aerosols with viral particles that infected people give off when they breathe, speak or cough, monkeypox infections usually occur through close physical contact according to the current state of knowledge.
Depending on the disease, the WHO sets up emergency committees, each of which is staffed with different experts. In addition to the emergency of international scope due to Corona, there has also been an emergency due to polio outbreaks since 2020 (since 2014).
The outbreaks of swine flu H1N1 (2010), Zika virus (2016) and Ebola (2014-2016 and 2019) are considered "closed emergencies". At the time, the WHO also convened emergency committees for MERS-CoV (2013-2015) and yellow fever (2016). However, the experts consulted at the time did not come to the conclusion that an emergency of international scope had to be declared.
Addition on 07/23/2022, 7:15 p.m.:
As Reuters reportsmembers of the Expert Committee, which met last Thursday to discuss a potential recommendation, were divided: Nine members opposed and six supported the declaration, which prompted Tedros himself to end the deadlock – and the to overrule the decision, he told reporters.
Lawrence Gostin, a professor at the Georgetown Law Institute in Washington, DC, commented on the decision as politically bold:
"The right outcome is clear – not to declare a state of emergency at this point would be a historically missed opportunity."
more on the subject – Next vaccination campaign? EU buys over 100,000 doses of monkeypox vaccine!

(rt/dpa)