While Biden returned from Saudi Arabia without a promise for higher oil production, Russian President Putin on Tuesday initiated a counter-summit in Tehran to the Gulf summit in Jeddah initiated by the US President. This is intended to counteract the new US agenda in the Middle East.
von Seyed Alireza Mousavi
Although US President Joe Biden announced on his first tour of the Middle East that the US would not leave a vacuum for China, Russia and Iran in the Middle East and would remain "engaged" in the region, his trip yielded few tangible results. Washington has failed to form a military alliance against Iran in the region, with Biden returning from Saudi Arabia without a pledge of increased oil production.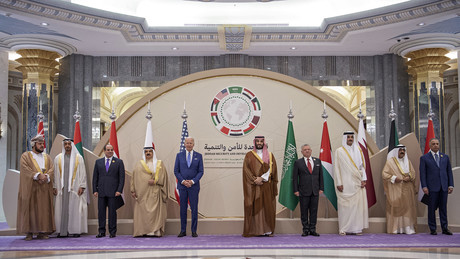 While the West has recently tried in vain to isolate Russia on a geopolitical level in the wake of the Ukraine war, Russian President Vladimir Putin and his Turkish counterpart Recep Tayyip Erdoğan met Iranian President Ebrahim Raisi in Tehran on Tuesday.
President Putin has launched a counter-summit in Tehran to the Saudi-US-initiated Jeddah Gulf Summit to counter the new Western agenda for the region. Recently, a summit meeting of the BRICS alliance – consisting of Brazil, Russia, India, China and South Africa – also took place in China, which aims to establish itself as a counter-model to the G7 group of states.
In view of its confrontation with the West in the course of the Ukraine war, Russia aims to intensify ties with those states that are also in a permanent conflict with the USA. Putin's trip to Tehran takes on an important dimension after National Security Advisor Jake Sullivan said in Washington that Iran was preparing to ship several hundred drones to Russia for use in Ukraine. Although Iran has denied this report, the denial was rather half-hearted. While the Iranian Foreign Ministry has denied the report, the Iranian Revolutionary Guard has not yet commented on it. Some Iranian drones are based on the design of the advanced US drones. At the time, Iran had forced an MQ-1B Predator drone to land over Iranian territory and copied it as the Shahed-129.
So far, Washington has had great difficulty in persuading its Arab allies to side with Russia and China in the major conflict. A US official explained CNNthat the growing partnership between Tehran and Moscow is an example of why the US must maintain its presence and influence in the Middle East.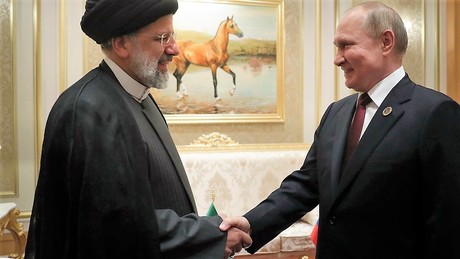 Erdoğan, Raisi and Putin meet in Tehran as part of the Astana format to discuss Syria. Turkish President Erdoğan is primarily concerned with obtaining approval from Russia and Iran for the fourth invasion of northern Syria since 2016. Just a few days ago, the Syrian Kurds called on Tehran to oppose a Turkish invasion. Russia has also spoken out against a Turkish invasion of northern Syria. At the beginning of July, as a warning to Turkey, Moscow extended the continuation of UN aid through the Bab al-Hawa border crossing – over which Damascus has no control – for only six months.
Although Turkey has condemned the Ukraine war, the country still does not support the West's sanctions against Russia. Turkey is also currently heading for a confrontation with Greece, since Athens has intensified its lobbying against Ankara's security concerns in the USA in the wake of the Ukraine war. However, a compromise between Iran, Turkey and Russia over Turkish security concerns in northern Syria is expected to tie Turkey more closely to Moscow and Tehran.
More important than the summit meeting of the three heads of government on Syria is the face-to-face meeting between Russian President Putin and Iranian head of state Ali Khamenei in Tehran. Khamenei is a decision-maker on strategic issues in Iran. This meeting will deal, among other things, with possible arms deliveries to Russia. Iran is unwilling to take that risk for free and further worsen its relationship with the West by selling arms to Russia. The Syria map will probably be on the negotiating table.
Although Russia has deployed more than 100,000 troops to its operation in Ukraine, it has managed to maintain its military presence in Syria and Libya. However, the Ukraine war is tying up Russia's resources and leading to power shifts in Syria. Moscow had to withdraw some units from there and transferred soldiers to Ukraine. It is speculated that the increased Iranian deployment has already been requested by the Syrian President and with Russia's consent. This gives the Iranian Revolutionary Guard more leeway on Israel's border, which has already caused uncertainty in Israel and Jordan. Against this background, Syrian Foreign Minister Faisal Mekdad is visiting Tehran on Wednesday to meet with his Iranian counterpart, Hossein Amir-Abdollahian.
The stalled nuclear talks in Vienna are also on the agenda of the strategic meeting between Putin and Khamenei. A confidant of President Khamenei said in the run-up to the summit in Tehran that as quickly as Iran had increased uranium enrichment from 20 to 60 percent, it could continue to enrich it to 90 percent. A decision on this has not yet been made. The Middle East is on the move: While the Gulf States and Israel are trying to forge an alliance against Iran's supremacy in the region, with mediation from the USA, Russia and Iran are moving closer together.
more on the subject – Could Iranian Drones Help Russia's Military in Ukraine?
By blocking RT, the EU aims to silence a critical, non-pro-Western source of information. And not only with regard to the Ukraine war. Access to our website has been made more difficult, several social media have blocked our accounts. It is now up to all of us whether journalism beyond mainstream narratives can continue to be pursued in Germany and the EU. If you like our articles, feel free to share them wherever you are active. It's possible because the EU hasn't banned our work or reading and sharing our articles. Note: However, with the amendment of the "Audiovisual Media Service Act" on April 13, Austria introduced a change in this regard, which may also affect private individuals. That's why we ask you not to share our posts on social media in Austria until the situation has been clarified.