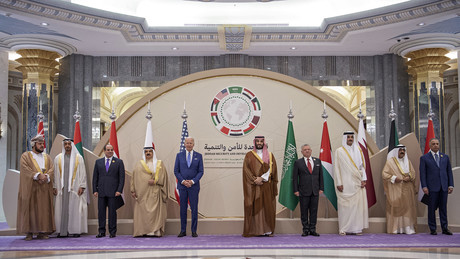 According to US President Joe Biden, the USA does not want to turn its back on the Middle East, but wants to push back the influence of China, Russia and Iran there. "Let me be clear that the United States will remain an active, committed partner in the Middle East," US President Biden said at the Gulf Cooperation Council summit in Jeddah, Saudi Arabia, on Saturday.
"We will not go away and leave a vacuum to be filled by China, Russia or Iran."
Biden added that the US leadership will support the "new rules-based world order". The Gulf Council is considered a political and economic alliance in the Persian Gulf. The members are Bahrain, Qatar, Kuwait, Oman, the United Arab Emirates and Saudi Arabia, which has a dominant position in the group. In the expanded format (GCC+3) on Saturday, Iraqi Prime Minister Mustafa al-Kadhimi, Egypt's President Abd al-Fattah al-Sisi and Jordan's King Abdullah II also attended.
Biden had previously received a lot of criticism for his trip to Saudi Arabia, as its Crown Prince Mohammed bin Salman is seen as responsible for the murder of Saudi journalist Jamal Khashoggi. Biden traveled to Saudi Arabia to persuade Riyadh to increase its oil production during the ongoing Ukraine war and forge an alliance against Iran.
President Biden told Arab leaders on Saturday that the US would remain an active partner in the Middle East, but he failed to make commitments on a "regional security axis" that would include Israel or an immediate increase in oil production, he commented Reuters.
Because of the alleged "threat" posed by Iran, the USA is aiming for a stronger network of air defense systems in its partner countries in the Middle East. On the subject of "defense alliance" against Iran in the region, Saudi Arabia's foreign minister, Prince Faisal bin Farhan Al Saud, said he was not aware of any talks on a Gulf-Israel defense alliance and that the kingdom was not involved in such talks.
Biden exchanged a fist salute with Bin Salman on Friday. However, the US President had informed the Saudi Crown Prince that he held him responsible for the murder of Khashoggi in the Saudi consulate in Istanbul. "The President raised the issue… and the Crown Prince replied that this [der Mord] It was a painful episode for Saudi Arabia and a terrible mistake," Saudi diplomat Adel al-Jubeir said. The Saudi official said Bin Salman, for his part, had also argued that trying to impose values ​​by force on other countries was "backward The crown prince reportedly told Biden that Saudi Arabia acted to prevent a repeat of mistakes like the assassination of Khashoggi, but "the US made mistakes too, like in Iraq."
more on the subject – Courting for more oil – US President Biden needs Saudi Arabia's help in the Ukraine war