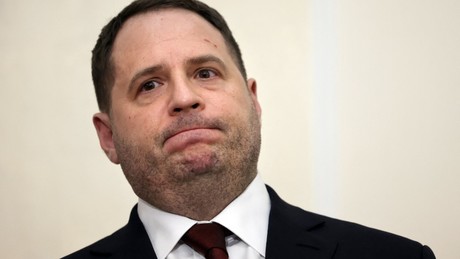 In a letter to US President Joe Biden on Friday, Ukrainian-born Republican US Rep. Victoria Spartz made serious allegations against Andrei Yermak, Ukrainian President Vladimir Zelensky's chief of staff. Part of Spartz's letter to the President is public.In the blacked out passages, however, Spartz is said to be demanding clarification of "various intelligence information about Mr. Yermak's actions in Ukraine and his alleged connections to Russia," according to the online news site Online Pravda reported.
Ukraine's Foreign Ministry responded to Spartz's allegations with an unusually harsh response on Saturday. According to the ministry, the US politician is trying to capitalize on the conflict in Ukraine. in one detailed post on Facebook Ukrainian Foreign Ministry spokesman Oleg Nikolenko stated:
"We advise Ms. Spartz to stop trying to make additional political capital out of unfounded speculation about the war in our country and the grief of Ukrainians."
And he added:
"Particularly cynical are the manipulations of Ukraine and its leadership by Ukrainian-born congressmen."
Nikolenko added in his statement that despite Spartz's allegations, Ukraine is "deeply grateful" to both the US Congress and Biden personally for the billions of US dollars in military and humanitarian aid. According to Nikolenko, Spartz is "trying to bring back into American politics classic narratives of Russian propaganda about the Ukrainian leadership's alleged ties to Russia and to drag our state into US domestic politics."
He also dismissed their claim that the unprecedented arms shipments to Ukraine were not being adequately monitored. Spartz's allegations also caused unrest in Ukrainian domestic politics. Vladimir Ariev, a deputy from former President Petro Poroshenko's party, European Solidarity, tweeted:
"This is all very serious, because letters like this don't come out of Congress without thorough suspicion."
A former MP, Borislav Bereza, wrote on the short message service:
"The morning started well. I like it."
In another post on Facebook He criticized Nikolenko's reaction to Spartz's letter and even called the spokesman for the Ukrainian Foreign Ministry an "idiot". Bereza literally:
"Such a statement by the Foreign Ministry spokesman is an attempt to show loyalty to Yermak and Tatarov and kiss their ass."
Oleg Tatarov, a deputy head of Zelensky's office, is also mentioned by Spartz in her letter. Tatarov was the head of the Interior Ministry's main investigative department under former President Viktor Yanukovych. In 2020, Ukrainian authorities investigated him on suspicion of corruption. Tatarov denied the allegations against him.
Foreign Ministry spokesman Nikolenko also indicated in his statement that the Ukrainian government sees Spartz's recent remarks as an attempt to rekindle internal political strife in Ukraine. Spartz's criticism undermines "the current flow of US aid to Ukraine."
In a statement on Saturday, however, Spartz followed up again. Yermak tried to "prevent Ukraine from properly preparing for war with Russia." Spartz further said:
"I demand that [Außen-]Ministry to consider my statement with the seriousness required by these questions about Mr. Jermak, instead of launching ad hominem attacks as before."
And further:
"Ukrainians and Americans are better served when our governments respond with due diligence – and not with defensive platitudes."
Spartz's concerns about the lack of oversight of US military aid packages have also been echoed by other political forces in Washington in recent weeksvoiced, who fear that modern weapons and military equipment could fall into the wrong hands. Some lawmakers had indicated that they would only support another aid package if the Biden administration could demonstrate that the aid was being delivered efficiently and with appropriate guidelines.
more on the subject – Live ticker on the Ukraine war – Borrell: EU loses the "war of narratives" for Ukraine