The Saudi Red Crescent Authority has completed its preparations to receive and serve the pilgrims of God for the Hajj season of this year 1443 AH, by harnessing all its capabilities of manpower and its fleet of ground and air ambulance services, represented by ambulances, disaster and rapid response vehicles, in addition to air ambulances, motorcycles and golf carts supported for the field ambulance operation and the employment of aspects Technology in its emergency work to provide ambulatory services of high quality.
The authority is also participating in this year's pilgrimage with more than 1288 medical personnel, including doctors, specialists, ambulance technicians and emergency medicine, distributed over 97 emergency centers in the Holy Capital, Mina, Muzdalifah, Arafat, the Isnad Complex and the seasonal centers through which pilgrims pass in Makkah and Madinah.
The authority uses 335 manpower for logistical support for field workers by dividing them into several teams and units to serve and provide all capabilities to the ambassadors of life. And 9 motorcycles and 4 golf carts, in addition to 4 medical supply carts and 16 quality response carts, and service cars to support emergency and administrative work during this year's Hajj mission.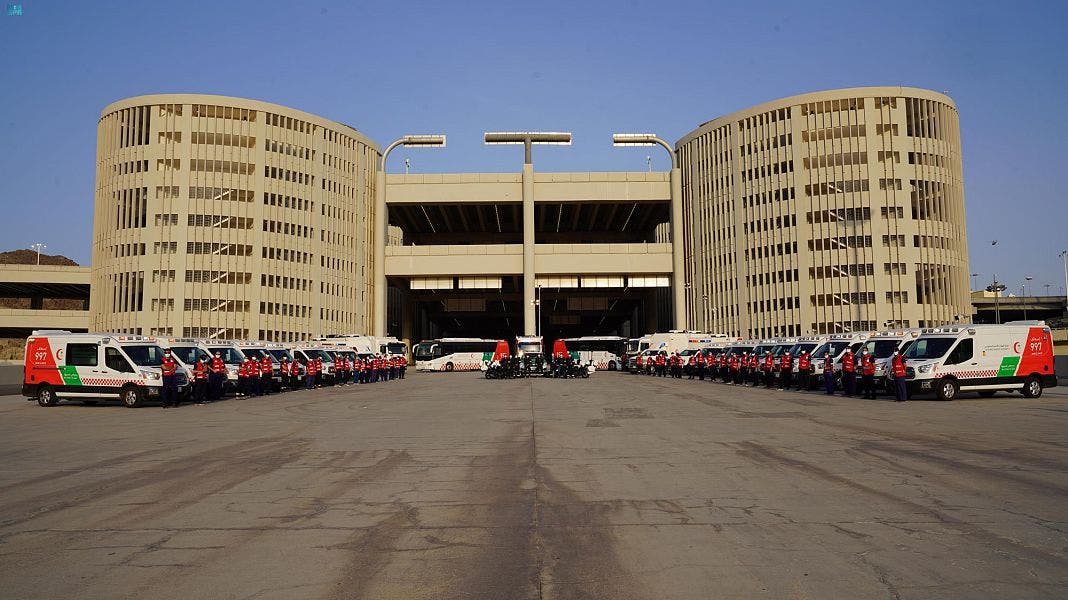 Red Crescent team organization
The authority also participates in more than 150 medical relocation workers in the Holy Capital, through several languages, in receiving and relaying communications in different specialties that are commensurate with the work, and following up the case by the medical team until the arrival of the emergency teams, and transferring them to the appropriate health facilities, in addition to the The presence of translators in several languages ​​to facilitate communication with the beneficiaries.
The Saudi Red Crescent Authority has supported the Hajj with more than 500 volunteers working under the umbrella of its volunteer team in various medical and health disciplines. Their participation was to support ambulance services in the holy sites and holy sites, and work to raise awareness and educate pilgrims and participants in Hajj by following preventive methods from diseases and others.
The head of the Saudi Red Crescent Authority, Dr. Jalal Al-Owais, confirmed that the authority put all its energies and capabilities to serve the guests of Allah for the Hajj season by providing the best emergency services for pilgrims and participants in the Hajj.
He added that work on the Hajj program begins since the end of the last Hajj season to avoid difficulties, and to continuously improve the quality of the ambulance service by monitoring all the positives and negatives that took place in the previous Hajj seasons; To contribute to an advanced season in line with the directions and aspirations of the wise leadership.