A video clip has recently spread on social media in Saudi Arabia, showing a security man forcibly stopping Mohfat.
The pioneers of the communication sites interacted with this clip, expressing their happiness with the efficiency of the security man, who was able to force Al-Mufattah to get out of his car and comply with his orders after trying to escape.
Social media activists emphasized their feeling of pride for the trained Saudi security men who are able to implement regulations and punish those responsible for any violation.
In the details, the video showed the traffic man getting out of his car and pointing his weapon in the face of the muftah to force him to stop the car and not flee, after he was caught red-handed.
The traffic policeman gave orders, decisively, to Al-Mufhat, telling him in a loud voice, "Get out of the car," and pointed his weapon at him to force him to get off. Indeed, Al-Mufhat complied with the orders and got out of his vehicle.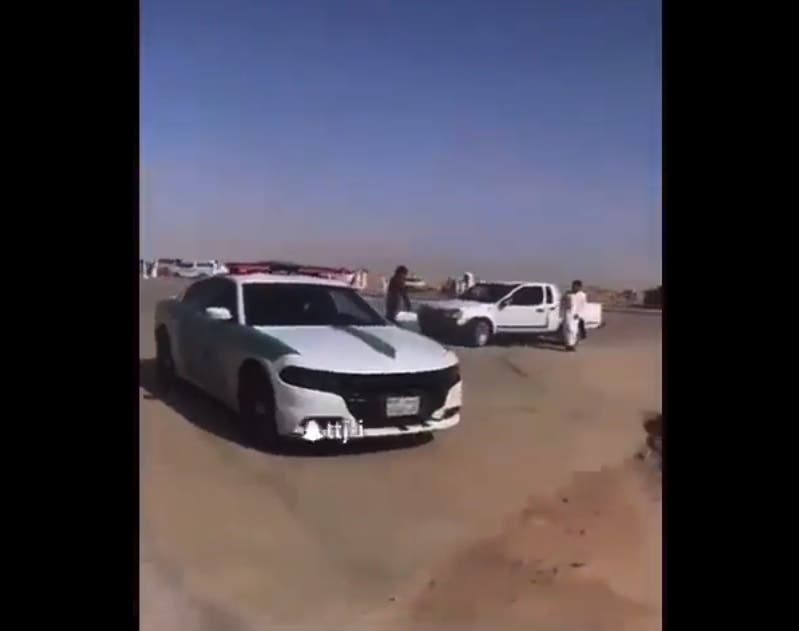 A security man stops the Muftah in Diriyah
Honoring the security man
The Traffic Department in Diriyah issued a clarification statement on the incident of seizing Al-Muftah, which stated: "A traffic control in the Riyadh region, a vehicle driver who appeared in a video clip practicing drifting in Diriyah, endangering the safety of others, was referred to the Traffic Authority to implement the penalties prescribed by law against him."
For his part, Major General Fahd bin Zaid Al-Mutairi, Director of Riyadh Police, honored the security man who appeared in the video, soldier Abdul Salam Al-Sanitan, a member of the Diriyah Traffic Division, after his brave stance.
This was in the presence of Brigadier General Muhammad bin Barjas Al-Dosari, the designated director of the Riyadh Traffic Department.
It is noteworthy that the General Traffic Department has determined the penalties for drifting and the procedures resulting therefrom, in accordance with Article 69 of the Traffic Law. Muftah shall be punished with the following penalties:
The first time: the vehicle is impounded for five days and a fine of 20,000 riyals.
The second time: impounding the vehicle for one month and a fine of 40,000 riyals.
For the third time: impounding the vehicle and a fine of 60,000 riyals.