Real estate prices and living space have become extremely expensive in recent years. While many people are moving out of the city due to the high costs, buying a home is currently becoming even more difficult due to the sharp rise in interest rates for financing.
Especially in the face of rising inflation, people rely on tangible assets such as real estate. However, other extreme trends are also emerging in this area, which will make it even more difficult for average earners to acquire real estate. While the cost of real estate of all kinds also through speculationa uneven marketincreased construction costs and reduced Funding Opportunities have risen to sometimes unattainable heights, financing is now becoming more and more expensive. In just a few months, the average interest rate for ten-year loans has tripled to around 3.1 percent.
The mortgage broker Interhyp expects real estate interest rates to rise further to between 3.5 and 4 percent by the end of the year. "A lot of people in Germany feel this rude awakening," said board member Mirjam Mohr. According to Interhyp estimates, many interested parties can no longer afford their own house or apartment.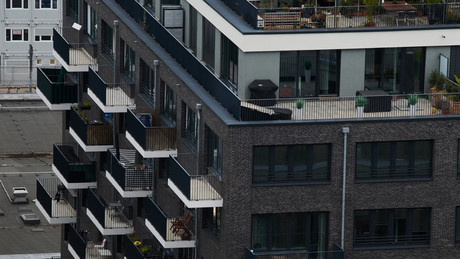 Last year there was a "last minute panic" on the residential real estate market, said the manager at the presentation of the company's new "living dream study". This year, many interested parties would have a completely different feeling: "I missed the train."
The demand for real estate financing is still high – but at least some interested parties are no longer receiving financing commitments due to limited financial resources and high costs. Interhyp had 2,180 people interviewed for the study in February and March.
A consequence of very high prices in the cities is, according to Interhyp, urban exodus – with the effect that prices in the areas around Berlin, Frankfurt and Hamburg rose much more sharply in the first quarter than in the actual city. Mohr named Berlin as an example. In the Berlin area, prices shot up by more than 12 percent in the first quarter, but by only four percent in the city.
However, many city dwellers are forced to buy a house or apartment in a rural environment and are not very satisfied at first. "City, country, frustration," said Mohr.
The reason for this are restrictions on the three Cs: social contacts, culture and consumption. According to the survey, at least 42 percent of rural property buyers struggled with their decision.
Interhyp does not expect a general, nationwide drop in prices for residential property. "We assume that prices will rise more slowly," said Mohr. In some regions there could definitely be price declines, but not across the board. Many investors have already benefited from the increased real estate and land prices in recent years, including not only homeowners, but also investors who have been able to make enormous profits without much effort. The trend could thus further widen the gap between rich and poor.
In Germany alone, around 3,100 super-rich already own more than a fifth of all private financial assets. The club of the super-rich, each with financial assets of more than 100 million dollars, grew by around 300 members last year.
more on the subject – High housing costs: Hundreds of thousands of Hartz IV recipients have to pay extra
By blocking RT, the EU aims to silence a critical, non-pro-Western source of information. And not only with regard to the Ukraine war. Access to our website has been made more difficult, several social media have blocked our accounts. It is now up to all of us whether journalism beyond mainstream narratives can continue to be pursued in Germany and the EU. If you like our articles, feel free to share them wherever you are active. It's possible because the EU hasn't banned our work or reading and sharing our articles. Note: However, with the amendment of the "Audiovisual Media Service Act" on April 13, Austria introduced a change in this regard, which may also affect private individuals. That's why we ask you not to share our posts on social media in Austria until the situation has been clarified.