In recent months, there have been numerous assassination attempts on Iranian scientists and officers of the Iranian Revolutionary Guard. The Israeli foreign minister now wants to visit Turkey in order, according to his own statements, to thwart Iran's "plans to attack" Israelis. An Iranian cyberattack on local public address systems in Israel set off sirens over the weekend.
In recent months, there have been numerous assassination attempts on Iranian scientists and officers of the Iranian Revolutionary Guard in Iran, with the Israeli secret service allegedly being involved. In the US media are now anonymous security representatives quoted, suggesting that Israel is responsible for the killings. Foreign Minister Jair Lapid will now leave for a short trip to Turkey amid "serious concerns" that Iran plans to harm Israeli travelers in the country, the reports Times of Israel on Monday. Lapid is scheduled to meet with Turkey's Foreign Minister Mevlut Çavuşoğlu on Thursday, the foreign minister's office said on Sunday.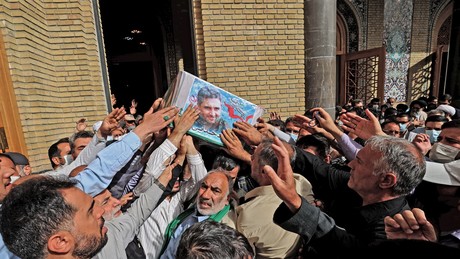 Çavuşoğlu spoke with Iranian Foreign Minister Hossein Amir-Abdollahian on Sunday, according to Iranian media. The reports said that Çavuşoğlu had expressed a desire to "improve bilateral relations and increase mutual cooperation" with Tehran. News of Lapid's upcoming trip came hours after President Isaac Herzog called his Turkish counterpart Recep Tayyip Erdoğan to discuss ongoing security coordination.
According to Israel, it expects attacks on its citizens in the Turkish metropolis of Istanbul by "Iranian agents". Iran's President Ebrahim Raisi announced retaliation after the assassination of Colonel Sajjad Chodai, a senior member of the Revolutionary Guard's Quds Force, in Tehran. Two aerospace experts from the Iranian Revolutionary Guard were also recently killed under mysterious circumstances during operations. There were also two attacks on two Iranian scientists. They are said to have been poisoned by the Israeli secret service. This was stated by an Iranian official in a report published on Monday New York Times.
Iran and Israel have long engaged in a shadow war that has recently intensified. Sirens sounded in Eilat and parts of Jerusalem on Sunday evening over a cyberattack on local public address systems, Israeli officials reported media on Monday. Iranian hacker groups are said to be behind the false alarm of emergency sirens. The Home Front Command statement said Sunday night's sirens came from a local civilian PA system and not a national system.
The Iranian Revolutionary Guard recently announced that it had uncovered an Israeli spy ring designed to destroy property, kidnap people and extract fabricated confessions.
more on the subject – The case of Fakhrisadeh: what drives the Mossad in the Middle East
By blocking RT, the EU aims to silence a critical, non-pro-Western source of information. And not only with regard to the Ukraine war. Access to our website has been made more difficult, several social media have blocked our accounts. It is now up to all of us whether journalism beyond mainstream narratives can continue to be pursued in Germany and the EU. If you like our articles, feel free to share them wherever you are active. This is possible because the EU has not banned our work or reading and sharing our articles. Note: However, with the amendment of the "Audiovisual Media Service Act" on April 13, Austria introduced a change in this regard, which may also affect private individuals. That's why we ask you not to share our posts on social media in Austria until the situation has been clarified.