After initial reluctance to supply Ukraine with heavy weapons, the German government is now fulfilling almost every wish on Ukrainian President Vladimir Zelenskiy's list. Multiple rocket launchers and the most modern air defense system IRIS-T SLM are the latest gifts from Berlin. Meanwhile, Foreign Minister Baerbock is already calling for perseverance slogans.
The German government is gradually realizing that the war in Ukraine could drag on for quite a while. Such an assessment provided according to the Mercury now Foreign Minister Annalena Baerbock (Greens) im ARD–Focus from Tuesday evening. There she said:
"We have to recognize that Putin has changed his strategy. He assumed he could quickly and brutally invade Ukraine and then crush the country."
Because that didn't work, Putin's strategy is "now designed for the long term."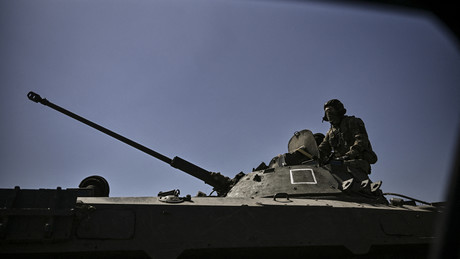 As a result, supporting Ukraine would require "staying power". Ukraine needs "for the terrible thing that's happening in the Donbass now", especially support for air defense such as artillery and drones. Otherwise there is a risk that "everything will be flattened in Donbass, and we've seen what that means in places like Bucha and Irpin," says Baerbock.
Putin's "time game" is extremely dangerous, said the foreign minister. Should he win in the Donbass, he could first see this as a domestic success and reorganize his army in order to conquer Ukraine completely after all. Baerbock therefore calls out perseverance slogans:
"Even if we are exhausted, we must do everything we can to defend Ukraine."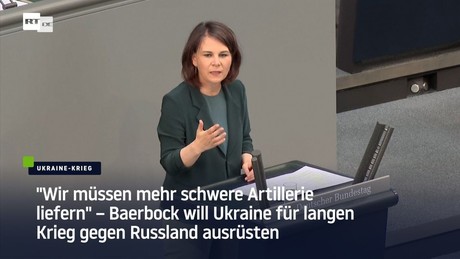 It is unclear who Baerbock means by "we". On Wednesday it became known that Germany, like the USA, wants to supply the regime in Kyiv with multiple rocket launchers for defense – even though Russia had already threatened at the beginning of the war that such intervention by third parties in the conflict would have serious consequences. Federal Chancellor Olaf Scholz (SPD) quit according to that Business Insider nevertheless offered the delivery of the most modern air defense system that Germany currently possesses during the general debate in the Bundestag.
The delighted Ambassador of Ukraine in Germany Andrei Melnyk gave the cost of the IRIS-T-SLM package consisting of high-performance radar, launcher and control vehicle as well as missiles opposite to the business week with 140 million euros each for the German taxpayer. It is unclear how many of these packages are to be delivered. The federal government recently promised to hand over the Panzerhaubitze 2000, which is also modern.
more on the subject – "It's about really heavy equipment" – Scholz promises more heavy arms deliveries to Kyiv
By blocking RT, the EU aims to silence a critical, non-pro-Western source of information. And not only with regard to the Ukraine war. Access to our website has been made more difficult, several social media have blocked our accounts. It is now up to all of us whether journalism beyond mainstream narratives can continue to be pursued in Germany and the EU. If you like our articles, feel free to share them wherever you are active. It's possible because the EU hasn't banned our work or reading and sharing our articles. Note: However, with the amendment of the "Audiovisual Media Service Act" on April 13, Austria introduced a change in this regard, which may also affect private individuals. That's why we ask you not to share our posts on social media in Austria until the situation has been clarified.