In a surprising statement, the Egyptian Minister of Immigration, Nabila Makram Ebeid, confirmed today, Saturday, that her son, Rami, who resides in America, was involved in a murder, noting that the accusation is under consideration before an American court, and a conclusive ruling has not been issued so far.
This came days after Western media confirmed the involvement of the son of an Egyptian minister in a murder in America, and revealed that a 26-year-old Egyptian youth had been charged with murder on charges of killing his American co-worker and attempting to kill another, adding that the US Supreme Court set a hearing June 17 next to his trial.
And the media reported that the Supreme Court in Orange County, California, will discuss the charges against the young man, Ramy Fahim, who is the son of the Egyptian Minister of Immigration and resides in Irvine, and works in a major wealth management company owned by a businesswoman of Egyptian origin, as he was accused of committing a murder inside his residence. .
Stabbed his colleague to death
The events of the case date back to April 19, when the Egyptian young man was accused of stabbing his co-worker with a knife several times to death in their apartment in which they reside.
One of the building's guards revealed that he saw the son of the Egyptian minister on the roof of the victim's apartment complex only hours before the discovery of the murder, as he was seen on the same floor of the victim's apartment on the morning of the crime.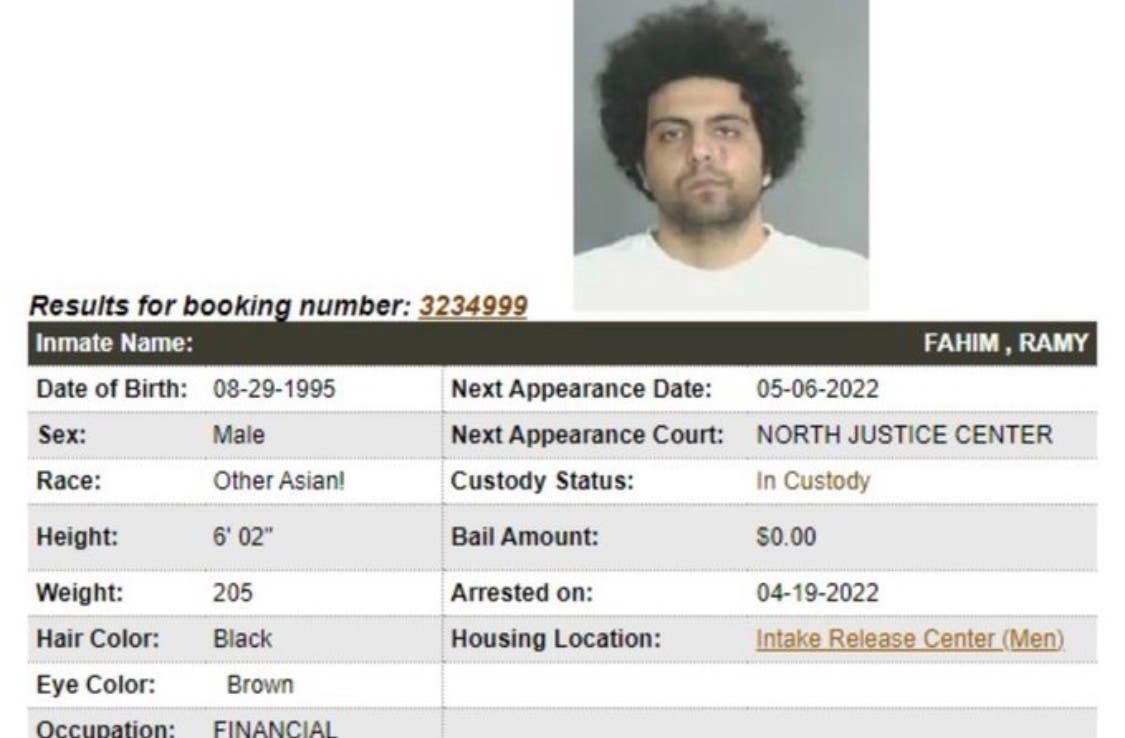 The son of the minister accused of murder
The Anaheim Police Department said in a press statement that the Egyptian youth was still inside the victim's apartment and suffered a slight injury when they raided the place and found the victim.
The Minister confirms the incident
For her part, the Egyptian minister confirmed the authenticity of the news and wrote on her page on the communication sites: "May God's will be… I and my family are going through a severe ordeal, and we are going through a difficult time after my son was accused of committing a murder in the United States of America. This accusation is seen before an American court and it was not issued." Definitive ruling so far.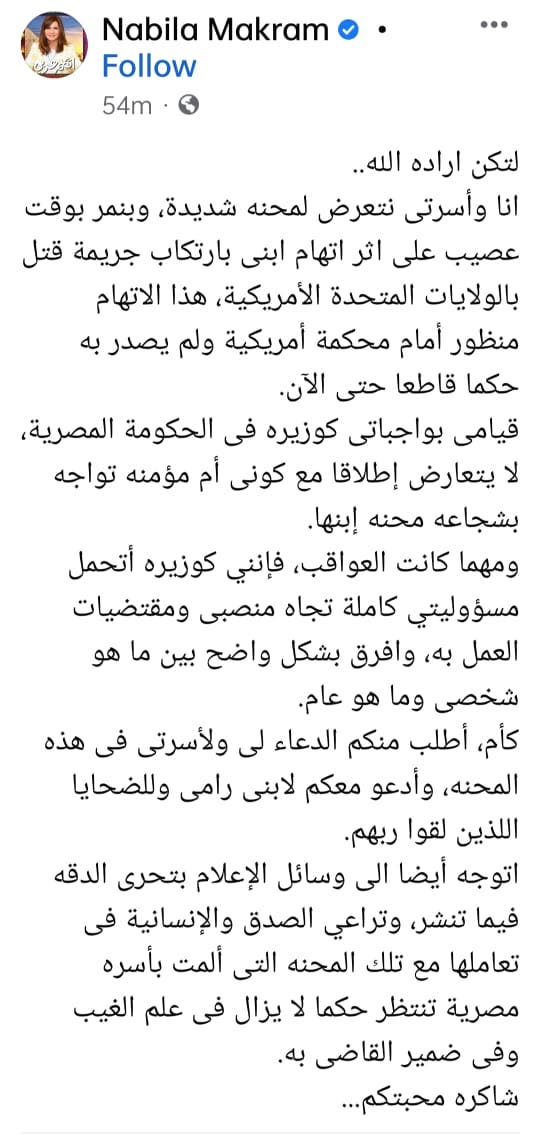 Minister's post
And she added, "My duties as a minister in the Egyptian government do not contradict at all with my being a believing mother who bravely faces the plight of her son," pointing out that whatever the consequences, "as a minister, I bear my full responsibility towards my position and the requirements of working with it, and I clearly differentiate between what is personal and what is general".
And she concluded, "As a mother, I ask you to pray for me and my family in this ordeal, and I pray with you for my son Rami and for the victim who met his Lord."