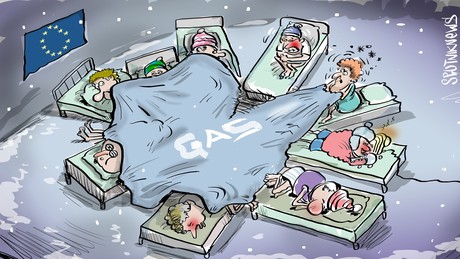 A commentary by Gevorg Mirsayan
The package of sanctions against Russia introduced by EU Commission President Ursula von der Leyen traditionally consists of both demonstrative actions and quite painful blows. However, these are painful for both Russia and the European Union itself.
Anti-egalitarian policies on the scale of an economic bloc
The demonstrative moves include the "list of senior officers and others who committed war crimes at Bucha and are responsible for the inhumane siege of the city of Mariupol." Sanctions should be imposed on these people. However, if the list of those who liberated Mariupol is already known and generally nobody hides it (people receive medals and other awards), questions about the Bucha list are bound to arise.
Because actually it should be about officers of the Ukrainian armed forces who shelled the city of Bucha with artillery, as well as SBU officers, death squads and the Volkssturm who murdered Ukrainian citizens who wore white armbands and then the corpses on the streets distributed. Yes, Western info dumps like Bellingcat were commissioned to put together a "Russian" list – they just didn't go about their work very professionally: the list they presented, which, despite its poor quality, will probably be adopted by EU representatives, contained a number of people who were not at all involved in the special operation of the Russian military in Ukraine.
You're also curious as to why, for example, those who committed war crimes in Kramatorsk, where a rocket attack on the train station killed 57 people, are not on the sanctions list.
Why is the topic of Kramatorsk as such so skilfully ignored? Could it be because the Ukrainian provocation there was so sloppily carried out that even the hardened EU bureaucrats don't even want to touch the issue with pliers? After all, a type of missile unavailable to the Russian army was used for the attack.
Among the sanctions was another blow to free speech. Von der Leyen explained vor dem EU-Parlament:
"We ban the broadcasting of three major state broadcasters in Europe. They will no longer be allowed to distribute their programs in Europe. It doesn't matter which way, via cable, satellite, the internet or apps on smartphones. We found that these TV programs are mouthpieces for Putin, aggressively spreading his lies and propaganda. We will no longer allow them to do so."
In reality, however, it is about the desire to limit access to alternative sources of information as much as possible. A significant number of Europeans do not trust either the spouts of, shall we say, BBCwho earned a black belt in fake news long throw during the Middle East wars, nor that Spiegelwho never apologized for the fake news he fabricated, which at least led to the Austrian government cabinet being voted out of office in 2019 … just so.
People see the dubious articles in the Western media about Ukrainian "freedom fighters" as they did recently about "moderate rebels" in Syria, and compare these articles with their personal experiences of these "fighters" flooding Europe as "refugees" and ending up in the actually managed to drive the locals crazy with their rowdy flash mobs. People therefore also want to see the Russian perspective. And the European Commission is doing everything it can to deny them access to it.
A third element of the sanctions package are new restrictions on Russian banks. In this regard, von der Leyen stated:
"We are decoupling Sberbank, by far the largest Russian bank, and two other major banks from Swift. By doing so, we are hitting banks relevant to Russia's financial system and limiting Putin's ability to further destroy it. This will end the complete isolation of Russia's financial sector cemented by the global system."
An unpleasant measure, for sure. But Russia as a whole and Sberbank in particular have actually prepared for this.
The "precious" jewel in the crown of the sixth package of sanctions is a ban on EU countries buying oil and oil products from Russia. EU Commission President von der Leyen stated:
"This will be a total ban on imports of Russian oil – by sea and via pipelines, crude and refined. We will ensure that the Russian oil phase-out is done in an orderly manner that allows us and our partners to find alternative To secure supply routes and minimize the impact on global markets, we will halt Russian shipments of crude oil within six months and of refined products by the end of the year."
Media broadside – another bullet in the self-shot knee of the economy and unity
A six-month delay is not provided without reason. The European Commission has thus made concessions to those member states that have declared that they are not ready to abandon Russian oil products immediately; that their refineries are not designed to process non-Russian crude oil (Slovakia), that they do not have the logistics to be supplied from alternative sources (Hungary), or that their port infrastructure has to be modernized and improved for such supply (Germany). Rumor has it that Brussels is even willing to grant Hungary and Slovakia a longer period of up to 20 months.
As a result, several media outlets wrote that the oil embargo was not just a done deal, but almost deadly for Russia. That the European sales market for Russian black gold is closed and it is not possible to divert it to other markets. However, this triumphant rhetoric is quite exaggerated.
First, Hungary has failed to appreciate the generosity of the European Union and does not intend to vote in favor of the draft sanctions. Hungary, which is supplied by pipelines, could only accept these sanctions, according to Hungary's Foreign Minister Peter Szijjártó,
"if there were an exception to the restrictions on oil shipments through pipelines".
The exception would have to be permanent and comprehensive. Alternatively, full compensation for the costs of conversion and adaptation would also be conceivable. The Hungarian chief diplomat explained the refusal like this:
"The Brussels package of sanctions will destroy the security of Hungary's energy supply. We cannot responsibly support this package of sanctions in this form."

"This is simply a physical, geographic and infrastructural reality."
Secondly, Slovakian refineries are not the only ones geared up for oil from Russia, and it is not just the infrastructure in Germany that is unprepared to accommodate tanker fleets carrying Middle Eastern black gold. Therefore, if the package is passed after all, it is possible that Hungary and Slovakia could become Europe's super-wholesalers of Russian oil, which would then be resold to European countries. Or, alternatively, these hard-to-satisfy consumers will be forced to buy the so-called mixes. Here, crude oil from Russia is mixed with other oils, so that it is formally no longer considered Russian.
All these complexities, subtleties and ambiguities perfectly illustrate the level of concerted determination and planning quality of the European bureaucracy, as well as its complete detachment from the economic realities in their own countries, where people are already aware of inflation and, in particular, the rising prices of petroleum products (gasoline as a best example) whine.
And instead of investing in the countries of her own economic bloc and thus working for the prosperity of Europeans, Ursula von der Leyen talks about her intention to invest billions of euros in the reconstruction of Ukraine. In other words, to replenish the wallets of the Ukrainian oligarchs, who have exhausted themselves in the course of the Russian military action, and to continue the sanctions war against Russia. And Eastern Europe is already ready to get ahead of the proverbial locomotive in the latter respect. This signaled for example the Estonian Foreign Minister Eva-Maria Liimets:
"It is important to start the discussion on those areas of the Russian economy on which we have not yet been able to agree. Such a movement, step by step, is now there – and this is the most important thing, so that after the sixth package of sanctions we can immediately to put together the seventh package of sanctions."
According to Estonia and Poland, this package should include restrictions on natural gas from Russia, without which the German economy – let alone the economy of Hungary – would simply collapse. But for Ursula von der Leyen, once a candidate for the office of German Chancellor, these costs certainly do not play a role either. For them it is much more important to "punish" Russia and "help" Ukraine.
more on the subject– Skyrocketing Prices – How it happened and why it's getting much worse
Translated from theRussian.
Gevorg Mirsayan is a political scientist, journalist and associate professor of political science at theFinancial University of the Government of the Russian Federation.