Amid the successive withdrawals of Russian forces from the vicinity of the Ukrainian capital, in line with Moscow's assertion of changing its strategy to focus on eastern Ukraine, the Ukrainian presidency again warned, today, Saturday, of upcoming bloody battles in the east and south, especially in the besieged city of Mariupol for weeks.
Adviser to the Ukrainian President Oleksiy Aristovich warned of a fierce fighting ahead of the country, saying in an interview with state television, according to Reuters: "Let us be delusional. There are still fierce battles coming to the east and south, especially in Mariupol."
Restore more than 30 towns
At the same time, however, he announced that Ukrainian forces had retaken more than 30 towns or villages around Kyiv.
He pointed out that the Ukrainian fighters are now facing the front line in the east with the Russians.
These warnings come to join other Ukrainian and international warnings issued during the past days and hours, warning of fierce battles that may erupt soon in eastern Ukraine.
After Moscow confirmed a few days ago that it would reduce attacks near the capital and in the north of Ukraine as a goodwill gesture in order to encourage negotiations to end the conflict, and focus on "liberating" the Donbass region in the southeast of the country, the West questioned those plans.
A Russian maneuver?!
It is likely that this initiative is just a maneuver in order to make way for the Russian forces to organize their ranks, after they incurred losses as a result of counter-attacks carried out by the Ukrainian forces during the past days, regaining control of areas on the outskirts of the capital, in addition to strategic areas in the north-east and south-west.
It also warned the United States, Britain and NATO alike of the coming attacks may target the capital and southern and eastern regions more violently.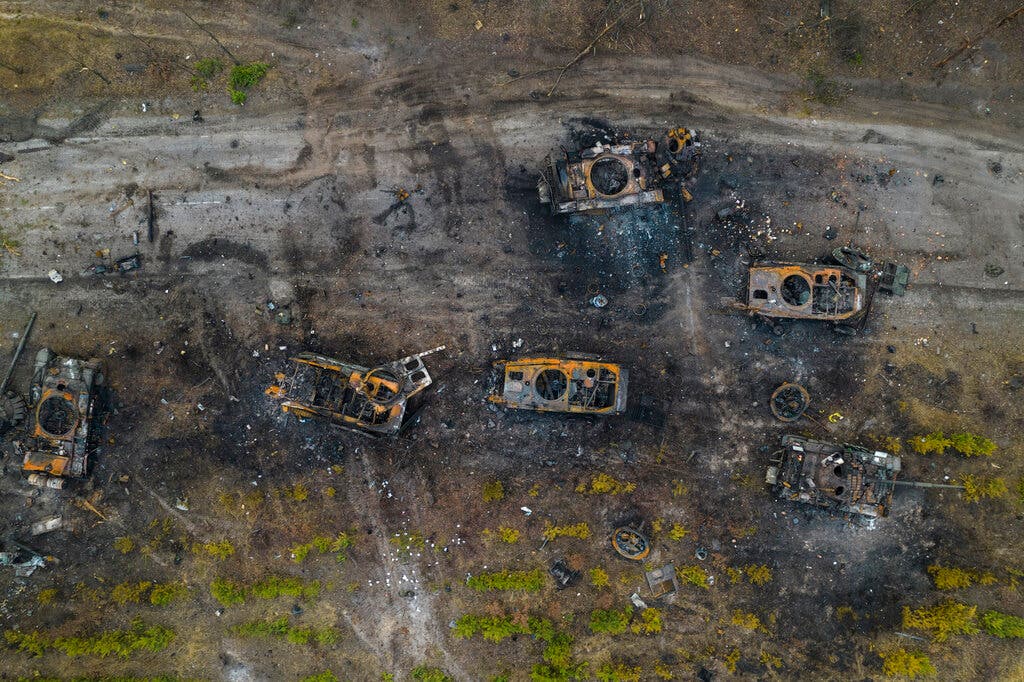 Russian vehicles destroyed in the vicinity of Kyiv (Associated Press)
It is noteworthy that since the launch of the Russian military operation on the territory of its western neighbor, on February 24, the Russians have not been able to control major cities in the country except for areas in the south and east, while military vehicles have been squatting for weeks around Kyiv, amid Western reports and international officials' assurances that Russian forces It suffered from several logistical and supply problems.