19 Jan. 2022 09:39 o'clock

After their talks gifts NATO Secretary General Jens Stoltenberg and Federal Chancellor Olaf Scholz (SPD) held a press conference in Berlin on January 18, 2022. In addition to transatlantic relations, the main topic was the tense East-West relationship. If the impression is not deceptive, even after the change of government in Berlin, the differences in interests in NATO have not diminished, even if the well-known rhetoric tries to hide this.
European security threatened by Russia?
Scholz added to the inevitable commitment to NATO and transatlantic security that this security was "not a matter of course" and allegedly endangered.
Scholz repeated the thesis that the situation "in and around Ukraine" shows how much this security is endangered.
However, Scholz asserted conspicuously often and clearly: "Ours [also die NATO-] Position on this question" is "clear". One is "completely in agreement" with the allies. After all, it seemed important to the Chancellor to emphasize this – supposed(?) – agreement in particular.
Scholz cited the principles of sovereignty, independence and territorial integrity, as well as the right to choose one's alliance freely, which are always cited by the Western side in connection with the Ukraine conflict.
Only Moscow needs to de-escalate
The Federal Chancellor also addressed the following demand to Moscow, which contained the unspoken insinuation that the Russian side had so far not been serious:
"We expect Russia to de-escalate the situation, which could include, for example, reducing troops on the Ukrainian border. We are ready to enter into a serious dialogue with Russia on security issues in Europe."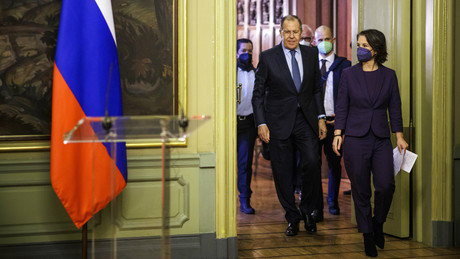 Nevertheless, the Chancellor – despite the well-known and usual accusations against Moscow – occasionally struck relatively conciliatory tones and spoke in this sense that discussion processes "redesigned" and communication channels "that we now have can be better used". He hopes for "more transparency" and "new ways for basic questions of arms control". Finally, Scholz emphasized, although not without a high-school dig at Moscow:
"We all want constructive and stable relations with Russia together, and we have no interest in permanent tensions. The opposite is the case. But it is important that everyone commits to the principles that we have agreed together. And that also means that Russia has committed itself to these principles within the framework of the OSCE."
offers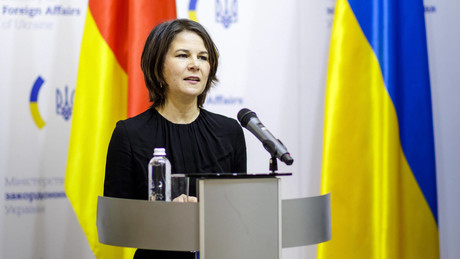 With a view to the year 2025 – i.e. the upcoming 50th anniversary of the signing of the Helsinki Final Act – one should reflect on "preparing a comprehensive solution for the future".
Scholz therefore advocates the use of all established discussion formats, in particular "to achieve progress together with France as part of the Normandy format". You have to use all channels of communication to "achieve an improvement in the current situation".
But to the signal of readiness for dialogue, Scholz immediately added the insinuation and threat that had become just as common:
"It's equally clear to us that any Russian aggression against Ukraine would have serious consequences. And we're also in contact with each other about this, that we always prepare and discuss the possibility of a joint, coordinated reaction."
Scholz praises Stoltenberg
In this sense, Scholz gave Stoltenberg a big compliment, who had campaigned for close cooperation between the EU and NATO, for which Scholz was "very grateful" to "dear Jens", as he addressed him:
"One thing is clear: that NATO remains true to itself, that it is strengthening its cooperation, and that we always know that transatlantic cooperation is at the core of the Alliance."
To conclude, Scholz once again swears by the unity of the NATO alliance:
"What we need now is good cooperation, unity and cohesion, and it's good that we've spoken to each other here too."
It was obviously necessary to emphasize this again.
Brussels one-eyed
On the other hand, the sharper anti-Russian accents at this press conference were reserved for the NATO Secretary General. Stoltenberg claimed that what was being experienced was the "decisive moment for European security". NATO claims to be able to observe a "Russian deployment in and around Ukraine":
"The risk of conflict is real."
Stoltenberg repeated the well-known appeals to Moscow that Russia could de-escalate the situation. Any "further aggression" will have a "high price" for Moscow. And the NATO Secretary General repeated the well-known self-description that NATO is a defensive alliance that does not threaten Russia or any other country. No indication that Moscow and other countries might see it differently. Stoltenberg generously acknowledged the Western military alliance's willingness to meet again with Russia.
However, the West's two-pronged approach remains: "Strong defense and deterrence combined with dialogue."
Gas as a weapon?
Not surprisingly, the NATO Secretary General also touched on so-called energy security. Without any evidence, Stoltenberg claimed that Moscow was "manipulating" the European gas market. Therefore, a diversification of suppliers is urgently needed for the European countries. In addition, while Russia is perfectly capable of pumping more gas through the existing pipelines to Europe, Stoltenberg said, it would refuse to do so. Moscow would therefore use the gas supplies as a means of exerting pressure and to blackmail the European states.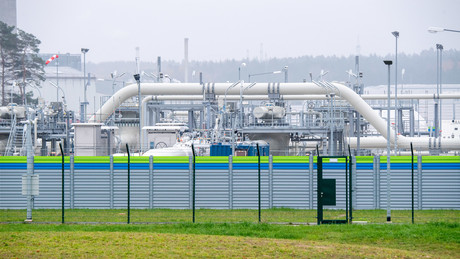 Berlin viewpoints
Scholz replied, almost apologetically, that the new Berlin government had just decided to completely phase out fossil fuels, i.e. to end the use of oil, coal and gas within 25 years at the latest. Berlin relies on "fossil free" as a "national strategy". Apparently, the Federal Chancellor could not resist remarking to the Norwegian Stoltenberg that Germany also gets gas from Scandinavia, in particular Norway, from the Netherlands and other countries – and not just from Russia. Without question, the pipeline project "Nord Stream 2" was addressed. Then Scholz switched to a somewhat sibylline expression:
"For the rest, I can only repeat what I have already said: the Federal Government, including the previous one, has reached a very clear agreement with the President of the United States and his administration on our approach to this issue, and we are continuing on this course."
Scholz was alluding to an agreement that he himself had engineered as Federal Minister of Finance under Chancellor Merkel in the summer of 2020. About it had the week time The time back then reported. Scholz is said to have offered the US side one billion euros in August 2020 to save the Nord Stream 2 project. The core of the German offer was to support the construction of liquid gas terminals in Brunsbüttel and Wilhelmshaven with the sum mentioned so that US fracking gas could be imported to Germany via these ports. Washington should pledge not to further impede the completion and operation of Nord Stream 2. However, the use of the pipeline was finally made subject to the formulaic proviso that Moscow was not allowed to use its gas supplies as a "weapon".
A few months later made Ironically, the "Deutsche Umwelthilfe" published the so-called "non-paper" of the former Minister of Finance. The current claims in the NATO countries, but also on the part of Ukraine, that Russia would use gas as a means of political pressure in the winter and in connection with the Ukraine crisis show what these agreements between Berlin and Washington, DC are still worth today.
Weapons for Ukraine?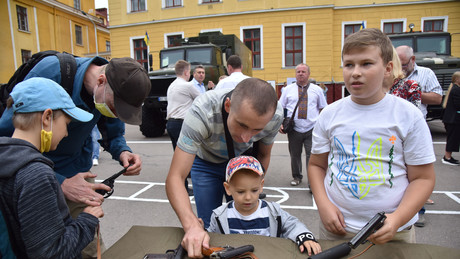 When a journalist asked about deliveries of deadly anti-tank weapons that Ukraine is supposed to receive from Great Britain, differences among the NATO countries, but also between Scholz and Stoltenberg, became clear. Scholz defended Berlin's often invoked, allegedly restrictive attitude towards arms exports and reiterated the general refusal to deliver arms to a war and crisis zone, such as Ukraine is.
Stoltenberg, on the other hand, emphasized Ukraine's "right" to receive deadly weapons from NATO countries. Britain and other NATO allies should be able to supply such weapons to Ukraine if they felt Ukraine needed them. After all, it is also NATO that is "helping" Ukraine to expand its "naval capabilities."
If one considers the relatively moderate statements by Foreign Minister Baerbock, which were made during her visit to Moscow at the same time and which stand in clear contrast to earlier, harsher tones towards the Russian side, then it can be a question of the unity and unity promised within NATO not be in particularly good shape.
more on the subject – Get into the spiral of escalation! – Germany's crème of Russia critics appeals in the ZEIT