5 Jan. 2022 19:03 Uhr

The protesters in Kazakhstan have brought the former capital Almaty and the airport there under their control. The riots are spreading across the country, with deaths and numerous injuries. Several administration buildings are occupied.
On the fourth day since the protests began, the situation in Kazakhstan threatens to turn into complete chaos. In the former capital, Almaty, in the south of the country, the protesting crowd drove the security forces from the streets. This reports RT-Correspondent Ivan Zhdanov, who is in the country:
"Almost every city in Kazakhstan is in the flames of protest. According to reports, there are no representatives of the security organs in Almaty – neither the police nor the national guard. The protesters drove them out of the city. The police were attacked and disarmed. The firearms and ammunition were simply taken away from them. In addition, an arms shop was looted. The situation is extremely explosive. "
The action on the streets of Almaty is recorded by many residents with mobile phones. One of the videos from the window of an office building shows a police officer being disarmed by a group of young men:
The international airport in Almaty was also occupied by a group of demonstrators. All flights are canceled until the end of the day. "According to initial reports, there are currently around 45 attackers in the airport. When they entered, our employees left the airport. At the time of the seizure, there were no passengers in the terminal. We evacuated the passengers early," said the airport press service.
In the meantime, the military has also left the airport: "We don't know when you left. You are not present at the moment. The airport staff used their own resources to evacuate the passengers." The airport in Aktau has also ceased operations.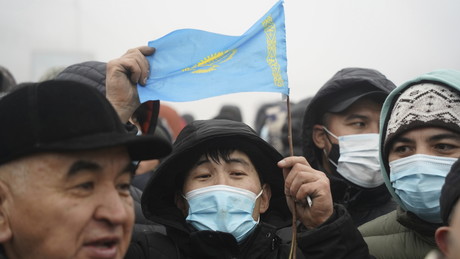 Nationwide there are also problems with the Internet, which is presumably being throttled by the authorities. TV channels are currently not providing any picture either. Military technology has been spotted in the capital Nur-Sultan. The scale of the protests in Kazakhstan has been unprecedented in the thirty years of independence.
According to President Kassym-Shomart Tokayev, there have already been dead and injured. He did not initially name numbers on Wednesday. "There are dead and injured. … The situation threatens the safety of all citizens of Almaty. And that cannot be tolerated," said Tokayev in an appeal to his compatriots that was first circulated by Russian media.
Tokayev also announced a tough crackdown by the security forces. This is a crime that will be followed by a penalty, said the head of state. The riots will be "as tough as possible" action. He also promised reforms. "I will soon go public with new proposals for the political transformation of Kazakhstan." He didn't give any details.
At the same time he rejected rumors that he wanted to leave the country. Rather, he assumed the chairmanship of the Security Council. "It is my constitutional duty to be with the people. Together we will overcome this black line in the history of Kazakhstan."
more on the subject – Kazakhstan: Government resigned due to mass protests