2 Jan. 2022 13:22 Uhr

In the Caribbean crisis state Haiti, shots were fired at a government event to mark the 218th Independence Day. At least one person was killed in the exchange of fire. Head of State Ariel Henry and several ministers also attended the event. You were unharmed.
On January 1st there was an exchange of fire at a government event in Haiti. The attack was apparently the head of state Ariel Henry. The attack was preceded by a protest against the politician's presence in the city of Gonaïves when riots broke out there a few days before the 218th Independence Day celebration. According to the Haitian news agency AlterPress A local group allegedly warned Henry not to attend the ceremony.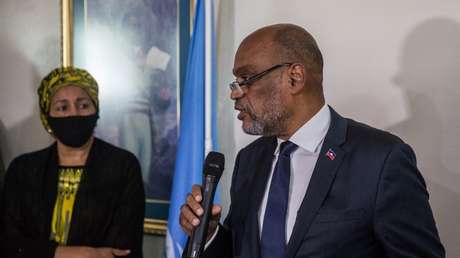 The event found held in a local church that was heavily guarded by security forces. There were no parishioners inside. Only local officials and the government delegation attended the event. Despite the explicit threats, Henry tweeted shortly before the attack that he and other members of the government were attending the traditional Te Deum in the Saint Charles de Borome church in Gonaïves.
As part of the celebration of the 218th anniversary of national independence, I am currently participating, alongside my Chief of Staff and several members of the government, in the traditional Te Deum which takes place, in Gonaïves at the Saint Charles de Borome. pic.twitter.com/dCWhHxuFHO

— Dr Ariel Henry (@DrArielHenry) January 1, 2022
The head of state and other members of the government, including Justice Minister Berto Dorcé and Interior Minister Liszt Quitel, were not injured in the attack. According to media reports, there were several injured. One person later died from a gunshot wound in a hospital. A video intended to show the exchange of fire was posted on social networks.
Warning: This Facebook entry contains disturbing pictures!
Because of the attack, all events that were on the program were canceled.
Political chaos and criminal violence have plagued Haiti for years. Criminal gangs control large areas, especially around the capital Port-au-Prince. At the beginning of July 2021, President Jovenel Moïse was shot dead in his residence. The background remains unclear to this day.
more on the subject – Suspect in the murder of Haiti's president caught in Istanbul