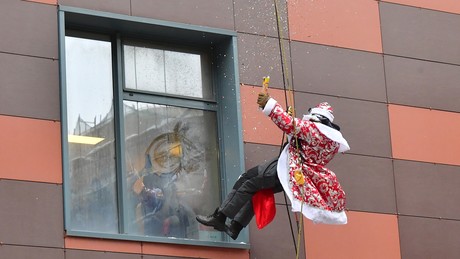 December 26, 2021 8:34 am

Happy Holidays are just around the corner. And small children stood at the windows of a Moscow hospital, in front of which rescue climbers dressed as Father Frost congratulated them on the upcoming New Year and gave them presents. Now the young patients are doing better, at least mentally.
Moscow rescue climbers disguised as Father Frost congratulated the patients of a children's hospital in Moscow on the turn of the year. Correct, not at Christmas, as in Russia, according to the Julian calendar, it is only celebrated on the night of January 7th.
Fifty Father Frost came down from the roof of the medical facility to give presents to the children through the windows. The city administration of the capital reported on this touching action on its Telegram channel, the video of which is linked here:
The little patients smiled and waved back. Hopefully all the children are now in a party mood. This was initiated by a boy named Matwei, who had wished to befriend the Moscow rescue workers for New Year's Eve. This was made possible by the charity project Metschtai so mnoi (in German dreams with me).
In addition, a performance and a parade of New Year characters are planned in front of the hospital. These are performed by street theater artists from the capital. Father Frost, Snegurochka (in English snow girl) and snowmen are of course an integral part of events of this kind in Russia. There will also be a New Year's Eve performance and master classes for hospital patients.
more on the subject – Boy asks Putin to ride T-90 tanks – military replies on behalf of Father Frost