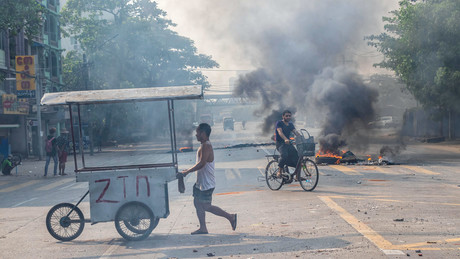 December 26, 2021 10:16 am

More than 30 people are believed to have been victims of military violence in a village in Myanmar. Their cremated bodies were found. The organization "Save the Children" misses two of its employees. Children are also said to be among the victims.
Violence and chaos reign in Myanmar after a coup in February. The head of government and Nobel Peace Prize laureate Aung San Suu Kyi was ousted and is currently in custody. Local units are fighting the new military government. There are always bloody clashes.
A massacre with at least 35 victims is said to have occurred in the village of Mu So in the municipality of Hpruso. The observatory "Myanmar Witness" (Myanmar witness) says that there are women and children among the victims.
The human rights group "Karenni Human Rights Group" reports that the victims are villagers who tried to flee the military. Their bodies were found cremated. The aid organization "Save the Children" also misses two of its employees. Your vehicle is said to have been set on fire. According to "Save the Children" there are 38 victims.
A member of the region's resistance group reports:
"We found some cremated bodies with their hands tied behind their backs. Our people were brutally killed. The civilians were collectively cremated here."
The media in Myanmar also reported that ten villagers were arrested. Children should also be among them. When members of a paramilitary group tried to prevent their arrest, they were handcuffed and shot.
The military government confirmed that there was a clash between them and rebels on December 24th. Soldiers tried to stop suspicious vehicles and shots were fired. Protests against the junta reportedly killed more than 1,300 demonstrators and over 10,000 arrested.
More on the subject – Myanmar: Aung San Suu Kyi sentenced to four years in prison