December 25, 2021 10:19 pm

The majority of UK youth wouldn't mind if Santa is gay, black, or female, while the older generation tends to prefer a traditional Santa, according to a new poll by YouGov.
From a survey by the British market and opinion research company YouGov followsthat different age groups have different ideas about Santa Claus. Younger Brits are open to gay, black and female Santa Clauses, while older Brits are more likely to stick to a traditional Santa Claus. Literally it said:
"Age is the most important factor in the general public, with the youngest Brits – 18- to 24-year-olds – supporting gay Santa Claus at 60 to 20 percent."
The results show that the majority of Britons aged 65 and over "cannot tolerate a homosexual Santa Claus, with 58 to 24 percent". The general population seems to be divided on this question: Slightly more respondents – 41 to 39 percent – prefer a straight Santa Claus.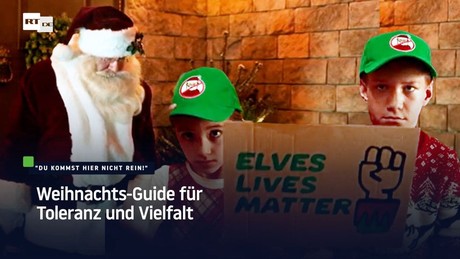 The discrepancy between those who believe that Santa Claus could be a woman and those who want him to remain masculine is much greater. Around 54 percent of the 1,714 British adults who took part in the survey are unwilling to accept a female Santa Claus. The younger Brits are overall much more tolerant: 45 percent agree that Santa Claus can be portrayed as a woman, while 31 percent disagree.
When it comes to a non-white Santa Claus, the UK population in general appears to have lower levels of acceptance, not only when compared to the youngest age group, but also when compared to the Americans who were also surveyed by YouGov last year: only half of the British (between 49 and 53 percent) think it is okay for Santa Claus to belong to a ethnic group other than white. In contrast, in the US, two-thirds (67 percent) accept a black Santa Claus, and 58 to 60 percent have nothing against an Asian or Middle Eastern Santa Claus. The survey was conducted in response to a Norwegian commercial that portrayed Santa Claus as a gay man.
more on the subject – Are Motherless Artificial Womb Babies the Future We Are Heading for?