25 Dec 2021 8:51 am

The tensions between Russia and Ukraine and their relations with NATO have reached "dangerous" proportions, according to the Turkish Foreign Minister. Ankara pursues a "realistic foreign policy" that advocates a diplomatic solution.
The "rivalry" between Russia and Ukraine and their relations with NATO have reached "dangerous" proportions, Foreign Minister Mevlüt Çavuşoğlu said on Thursday. "We will not ignore our principles and close relations with Ukraine" just because Turkey has extensive relations with Russia, Çavuşoğlu said. For the difficult balancing of foreign policy in this conflict, Turkey will do everything "what the zeitgeist and our national security require". The Turkish daily reports Daily Sabah.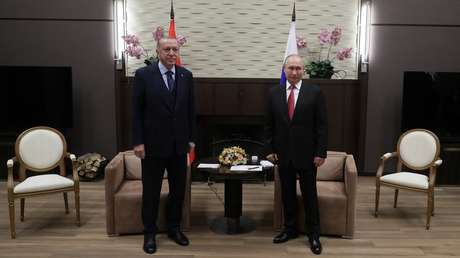 President Recep Tayyip Erdoğan had already stated that Turkey could mediate between Ukraine and Russia in the face of increasing tensions in the region.
Russian Foreign Minister Sergei Lavrov recently called on Çavuşoğlu to take Moscow's concerns about Turkey's military-technical cooperation with Ukraine seriously, as it promotes the "militarization" of Ukraine. As part of an operation, Ukraine first used a Turkish Bayraktar combat drone in the Donbass conflict at the end of October. In 2019, before the end of the term of office of the then Ukrainian President Petro Poroshenko, the first Turkish Bayraktar TB2 drones were delivered to Ukraine.
Daily Sabah according to Çavuşoğlu said that NATO has also changed and that the alliance is trying to adapt to new developments. The diplomat stated that the focus was on strengthening the political aspect within the strategic concept "NATO-2030". As the country with the second largest military among NATO members and the fifth largest contributor to the Alliance's operations and missions, he underlined that Turkey played an active role in this.
"There are efforts by some countries to present the EU as an alternative to NATO. That is not constructive and unrealistic. The indivisibility of transatlantic security is our basic principle."
Çavuşoğlu emphasized that Ankara was pursuing a "realistic foreign policy" that advocated a diplomatic solution.
Turkey is a country that has been integrated into the Western agenda to varying degrees, although it repeatedly causes headaches at the European level. Ankara has had a swing policy between East and West in recent years – especially since Turkey and Russia signed the first purchase agreement for four complete Russian S-400 batteries worth 2.5 billion dollars at the end of 2017.
more on the subject – Lavrov: Turkey should reconsider military cooperation with Ukraine