The Turkish lira recorded its strongest week ever on Friday, as It rose more than 50% after state-backed interventions The market is estimated at billions of dollars and the government pledged to cover foreign exchange losses on some deposits.
The Turks did not sell dollars on Monday and Tuesday, according to official data, indicating that they had little role in the massive market gains. And estimates of dealers showed that the state's intervention in the market cost the central bank more than $8 billion this week.
The currency rose for the fifth consecutive day and touched its levels in mid-November. And recorded 10.7 pounds against the dollar at 1919 GMT.
On Monday, the lira plunged to an all-time low of 18.4 against the dollar after months of falling due to aggressive interest rate cuts and concerns about a sharp increase in inflation.
But President Recep Tayyip Erdogan late Monday unveiled a plan by which the central bank and the treasury would compensate for losses on deposits converted into Turkish lira to protect them from foreign exchange losses.
In an interview with Al-Khabar TV on Friday, Erdogan said Turks had shown their confidence in the local currency and that lira deposits had risen by 23.8 billion after the anti-dollarization plan was announced.
He added that the new tool will help in the stability of foreign exchange rates and the budget in the long run. The lira received great support from dollar sales carried out by government banks with the support of the Central Bank.
In the first three days of this week alone, the central bank's net foreign reserves fell by $8.5 billion, according to the calculations of three bankers who spoke to Reuters.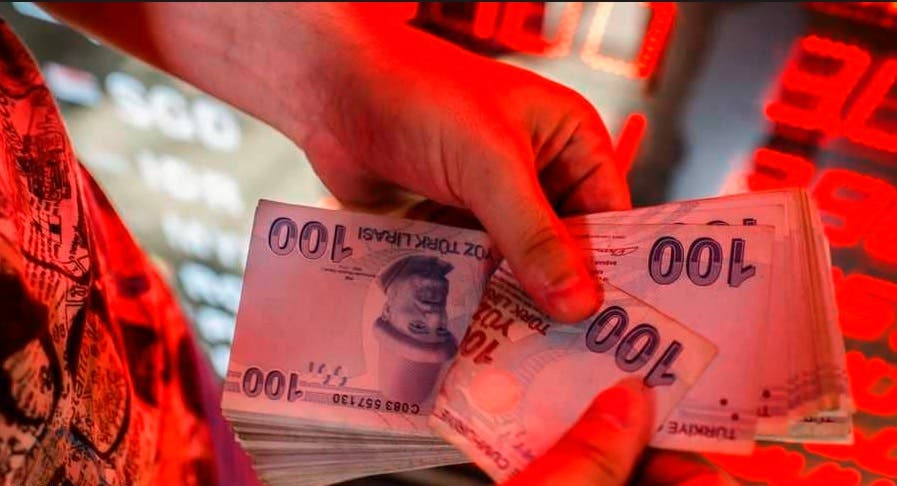 Turkish lira
They added that the decline in reserves in December amounted to nearly $18 billion. Reuters quoted four informed sources, including a senior Turkish official, on Thursday that state banks sold dollars heavily this week, following Erdogan's announcement of his plan.
Government banks have not commented on the matter.
Under pressure from Erdogan, the central bank has cut the interest rate by 500 basis points to 14% since September, despite inflation rising above 21%. It is expected that prices will rise 30% next year, due, among other things, to the depreciation of the lira.