24 Dec. 2021 10:30 p.m.

Iran's top commanders said on Friday that the country's war games this week were in response to "empty threats from the Zionists." The commander in chief of the Revolutionary Guard even told Israel: "We will cut off their hands if they make a wrong move".
The war games Iran staged in the Gulf this week should be a warning to Israel, the country's top military commanders said on Friday amid concerns over possible Israeli plans to attack Iranian nuclear facilities.
The War Games of the Guardians of the Islamic Revolution (better known as the Revolutionary Guard), which also fired ballistic missiles and cruise missiles, ended on Friday.
The Revolutionary Guard Commander in Chief Major General Hossein Salami said on state television: "These exercises had a very clear message: a serious, genuine warning to the threats by the authorities of the Zionist regime to be wary of their mistakes." The head of the Revolutionary Guard emphasized:
"We'll cut off their hands if they make a wrong move … The distance between actual operations and military exercises is just a change in the angle at which the missiles are fired."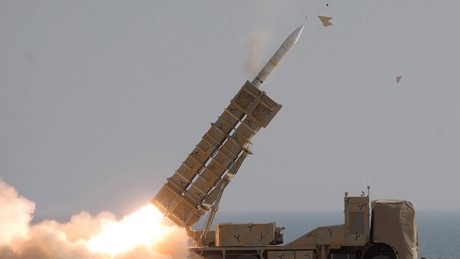 According to Major General Mohammad Hossein Bagheri, the Chief of Staff of the Armed Forces, the "Great Prophet 17" military exercises this week were a success that demonstrated Iran's military strength.
"These exercises were intended in response to threats made by the Zionist regime in recent days," Bagheri told state television. "During this exercise, 16 rockets were fired at the selected target and destroyed it. It used some of the hundreds of Iranian missiles capable of destroying a country that dares to attack Iran," Bagheri said on the sidelines the closing day of the exercise on Friday in front of reporters.
The official news agency IRNA reported on Friday that the range of the missiles fired during the military exercise in the south of the country is between 350 and 2,000 kilometers. According to Iranian statements, this will enable them to reach the archenemy Israel and US military bases in the region.
Brigadier General Abbas Nilforoushan, a spokesman for the War Games, also said the exercises went according to plan and that electronic warfare had successfully eliminated the hypothetical enemy anti-aircraft shield.
The five-day military exercise began early on Monday morning with an anti-aircraft exercise over the Bushehr nuclear power plant. Ground, naval and air force units of the Revolutionary Guard were involved in the war games.
On Wednesday, US National Security Advisor Jake Sullivan met Israeli Prime Minister Naftali Bennett, who opposes a revival of the 2015 nuclear deal with Iran.
more on the subject – US General McKenzie: Iran and Shiite militias want to oust the USA from the Middle East