The Public Transport Authority in Saudi Arabia has opened the way for individuals and establishments who own a number of vehicles higher than the limit allowed by law to correct their situation and apply for a license for the activity of transporting goods on land roads, in exchange for exempting them from the fees for issuing public transport licenses and the fees for issuing plates, in addition to not linking The process of issuing licenses, operating cards, or issuing letters of payment of violations related to them.
The authority explained that these initiatives encourage correcting the conditions of individuals and establishments in the road transport activity and combating the phenomenon of cover-up in it, and are in line with the objectives of the national strategy for transport and logistics services, as they will support the growth and development of the logistics sector, achieve its goals and raise the level of quality and competitiveness in it.
It also stated that the initiatives that came based on the approval of the Council of Ministers issued by the recommendations of the committee formed to combat the phenomenon of cover-up regarding road transport trucks, will also protect the regular carrier from unfair competition and will support efforts to combat the cover-up phenomenon in this sector, stressing that trucks registered as "Private Transport" The provision of road freight transport services for a fee, unless the transported goods and cargo belong to the owner of the truck himself.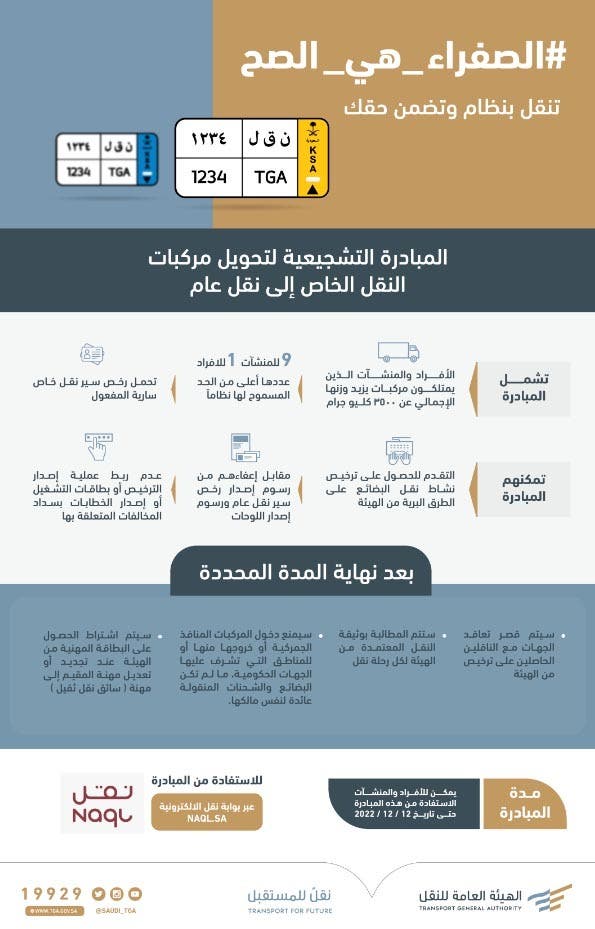 It also indicated that these initiatives are an opportunity for all individuals and establishments covered by this initiative to transfer their vehicle registration from "private transportation" to "public transportation" through the Naql electronic portal, and to benefit from the exemptions and benefits established before the end of the period specified on 12/12/2022.
The authority confirmed that after the end of the specified period, the contract of agencies with carriers who obtained a license from the authority will be restricted only, and a transport document approved by the authority will be required for each transport trip, and vehicles will be prevented from entering or leaving customs ports or areas supervised by government agencies, as long as The transported goods and shipments did not belong to the owner of the truck himself, and a professional card will be required from the authority when renewing or modifying the resident's profession to the profession of "heavy transport driver".