December 24, 2021 2:44 p.m.

At the last WHO media briefing for journalists in 2021, Tedros A. Ghebreyesus formulated a surprising and hardly published subordinate clause in the context of journalists' questions. This received little media attention, but led to lively debates on social media.
An analysis by Bernhard Loyen
WHO Secretary General Tedros A. Ghebreyesus creates a topic for discussion on social media. The reason are two words that – depending on perception and interpretation – cause a sensation on the Internet: "to kill". They were said at a press conference on December 20, following the last WHO media briefing in Geneva in 2021.
When asked by a journalist about recent WHO comments on booster strategies, the Secretary-General replied: "There is now new evidence of the benefits [von Booster-Impfungen], especially for the elderly, especially for people over 65 and over 60 … "
"So when it is used, it is better to focus on the groups at risk of serious illness and death rather than, as we see in some countries, children with booster vaccinations to killwhat's wrong. "
This utterance falls at minute 27:10 and is on the WHO website about one Audio-Link audible [Anm.: Blauer Audio Button, rechte Seite unter der Auflistung der "Speaker Key" bei Minute 27:10]. The entire answer to the journalist's question, including the quoted paragraph, is documented in the written version of the full original English transcript as follows:
"So, if it's going to be used, it's better to focus on those groups who have the risk of severe disease and death, rather than, as we see, some countries are using to give boosters to children, which is not right."
However, when translated into German this means:
'So if it is to be used it is better to focus on the groups at risk of serious illness and death rather than, as we see some countries using it to give children booster vaccinations, which are not correct is."
The two words "to kill" are now missing. Is the listener of the audio recording mistaken? There are also images of the event and, accordingly, a video recording of the decisive moment:
Ghebreyesus' answer then goes on: "And this is where the issue of equity comes in. Instead of vaccinating a child in high-income countries, it is better to vaccinate the elderly in countries where they have not been vaccinated, even with the basic vaccines. The issue of equity So should come into play too. I think that's the first point. The second point is prediction. As you know, it's very difficult to predict. And we're facing another very harsh winter. But we also believe that we can get through this with solidarity. "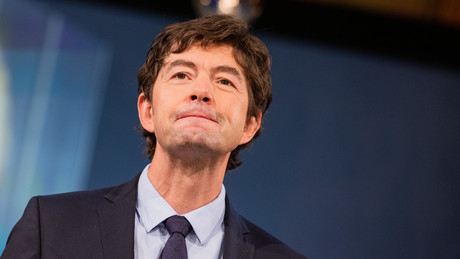 The answer to the journalist's question ends with Ghebreyesus' appeal: "So let's get the vaccinations up, let's get all the public health measures up too, and we can be in better shape because we know the virus better now, and we have better resources. We know the virus better, and so do we." we have better tools. Now it is a question of the correct implementation. "
A discussion developed on social media as to whether the two words exist and want to be deliberately heard – or whether this is simply a "little" slip of the tongue from Ghebreyesus [Anm.: z.B. wird gemutmaßt, er wollte eigentlich zu "to kids" ansetzen]:
WHO Director General Tedros Ghebreyesus confirms that the booster doses "kill" children. I remember with horror how many mothers who couldn't get it fast enough wanted their 5 year old children to be vaccinated, if that's not insane? pic.twitter.com/E2Kz6catDN

– Peaceful resistance (@KonigWilhelm) December 23, 2021
Robert Malone, American virologist, immunologist and pioneer of mRNA research, the two controversially discussed words also stood out:
Malone is now a well-known critic of the COVID-19 vaccines and is therefore considered "controversial" himself.
The Canadian broadcaster CP24 warthe much discussed statement of the WHO chief worth a contribution:
Extremely disturbing, is it a Freudian Slip? Listen closely, Tedros literally says "most nations are giving boosters to kill children and its not right."😳😳😳 No sh!t Sherlock! bottom line is, he admits to new data, (backtracking) and we seriously need to #StopTheShotpic.twitter.com/ycbe2f9p2s

— What's Up Canada? (@WhatsUp_Canada) December 21, 2021
More on the subject – WHO should receive data on Sputnik V by the end of December