23 Dec 2021 9:53 pm

135 million euros instead of just 10 million: The cost explosion in the "Gorch Fock" renovation may now have legal consequences. According to a Spiegel report, the ex-managers of Elsflether Werft could be sued for damages by the Ministry of Defense.
Because of the cost explosion in the renovation of the naval training ship "Gorch Fock", the Ministry of Defense wants the Spiegel according to sue for damages. A corresponding civil suit against the former bosses of the main contractor, Elsflether Werft, is being prepared. The background is possibly excessive bills that the shipyard, as a general contractor, is said to have submitted to the federal government, reports the news magazine.
The Osnabrück public prosecutor's office has been investigating ex-managers of the company for several years. You are said to have put several million euros in opaque secondary business.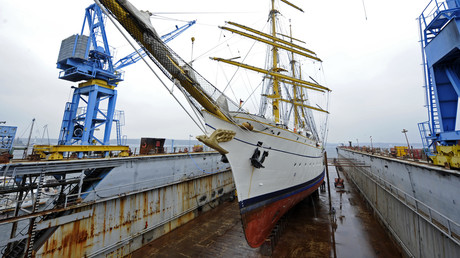 A Defense Ministry spokesman did not want to comment on the report on Thursday. He emphasized, however, that the ministry would check in any case whether compensation could be claimed if the Federal Republic of Germany suffered damage. The accused wanted to be loud Spiegel take no position on the allegations and a possible lawsuit. Elsflether Werft filed for bankruptcy in February 2019 in the middle of the restructuring process.
The German Navy uses the more than 60-year-old "Gorch Fock" to train its offspring in seamanship. Initially, ten million euros were planned for the general overhaul of the three-master, after major increases, the former Defense Minister Ursula von der Leyen (CDU) capped spending at 135 million euros.
The affair put them in trouble at the beginning of 2019. The Federal Audit Office criticized the minister, who gave the green light twice for cost increases on the basis of "incorrect or insufficiently meaningful information" that was found in so-called management documents in January 2017 and March 2018, according to the auditors.
In this context, the opposition at the time even called for von der Leyens to resign. "Minister von der Leyen can not only stage herself as a victim of the criminal machinations of a shipyard. She has made considerable mistakes of her own," said Green Defense politician Tobias Lindner. The security policy spokesman for the Left, Matthias Höhn, also declared that the minister had political responsibility and demanded: "The Gorch Fock belongs in the museum harbor, the minister in retirement."
more on the subject – Ministry of Defense: Further allegations in consultant affair