US intelligence agencies have revealed that Saudi Arabia is now actively working on manufacturing its ballistic missiles with the help of China, CNN learned Thursday.
US officials at several intelligence agencies, including the White House National Security Council, have in recent months been briefed on classified intelligence revealing multiple large-scale transfers of sensitive ballistic missile technology between China and Saudi Arabia, according to two informed sources.
New satellite images obtained by CNN indicated that the Saudis are already manufacturing ballistic missiles at a site previously established with Chinese help, according to experts who analyzed the images and sources that confirmed that they reflect developments consistent with the latest US intelligence assessments.
"burning pit"
The new photos revealed that Saudi Arabia is now producing ballistic missiles at the site, pointing out that the main evidence is that the facility operates a "burning pit" to dispose of solid fuel residues from ballistic missile production, according to Jeffrey Lewis, a weapons expert and professor at the Middlebury Institute of International Studies.
"Casted rocket engines produce propellant residue, which is an explosive hazard. Solid propellant production facilities often contain combustion pits where the residual fuel can be disposed of by combustion," he explained.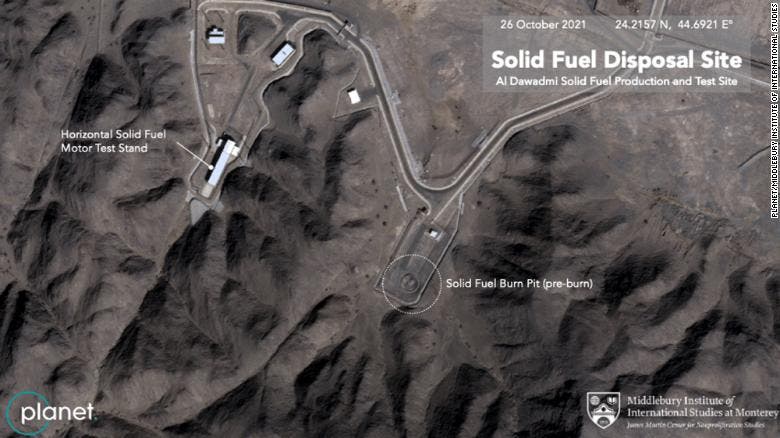 Satellite images as published by CNN
In addition, the expert stated that the facility in question was built with Chinese assistance and new intelligence assessments show that Saudi Arabia has recently purchased sensitive ballistic missile technology from China, and it is likely that the missiles produced there are of Chinese design.
Lewis noted that there is also evidence that Saudi Arabia has looked to other countries to help develop its ballistic missile program in recent years, making it difficult to determine what weapons system the kingdom is now building at this facility.
"Cooperation does not violate international law"
Meanwhile, in response to the network's question about whether there have been any transfers of sensitive ballistic missile technology between China and Saudi Arabia, a Chinese Foreign Ministry spokesperson told CNN in a statement that the two countries are "comprehensive strategic partners" and "have maintained friendly cooperation in every aspect." fields, including the field of military trade.
"This cooperation does not violate any international law and does not involve the proliferation of weapons of mass destruction," he added.
For his part, the former US ambassador to Bahrain, Adam Ereli, commented on the news on Twitter, saying, "It is good for Saudi Arabia to take matters into its own hands, it cannot rely on the United States." "Maybe if we had a coherent and consistent policy in the Middle East and treated allies with respect, this would not happen," he added.
CNN noted that Saudi Arabia has purchased ballistic missiles from China in the past but has not been able to build its own so far, according to three sources familiar with the latest intelligence.