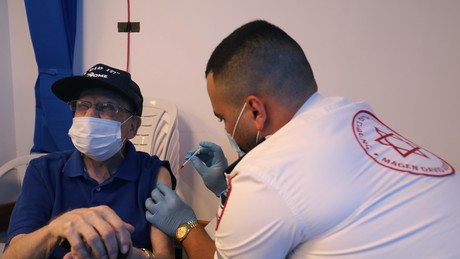 23 Dec 2021 11:31 a.m.

An Israeli infectious disease expert warns that antibodies will decrease even after a third dose of vaccine. But the development will only show in the future. Israel has already started the fourth vaccination. The Stiko relies on the experiences from Israel.
Because of the spread of the contagious omicron variant of the corona virus, the general public in Germany should be boosted. While around 35 percent have already had a booster vaccination in this country, in Israel the fourth dose is now being offered to people over the age of 60 as well as medical staff and people with an immunodeficiency.
Infectious Disease Expert Ejal Leschem warns against false expectations of the booster vaccinations:
"It is a natural process for the antibodies to gradually decrease after vaccination."
Vaccination protection also depends on the development of T cells, emphasizes the expert. He sees it as positive that the side effects decrease with the third vaccination at the latest. He welcomes the fact that his homeland is now vaccinating certain people for the fourth time and compared this to vaccinating children against polio:
"It is also not uncommon to give four doses of the vaccine in a year."
In Israel, an infection with the omicron variant was detected in 200 cases. Several hundred cases are suspected.
Federal Minister of Health Karl Lauterbach speaks also opt for the fourth vaccination:
"We're going to need a fourth vaccination."
The Standing Vaccination Commission will rely on the scientific data from Israel.
More on the subject – Vaccination fatigue among young Israelis: no need for boosters