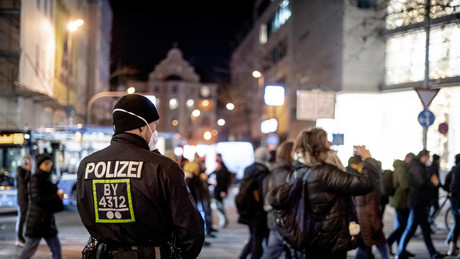 22 Dec. 2021 9:47 pm

Despite a ban, according to the police, 3,000 critics of the Corona measures protested again on the outskirts of downtown Munich. There were occasional scuffles with the police.
A few thousand critics of the Corona measures demonstrated in Munich on Wednesday evening and also clashed with the police, like them Southgerman newspaper reported. A police spokesman estimated that around 3,000 people were on the street. The demonstrators gathered on Ludwigstrasse, between Altstadtring and Siegestor. At least twice they overran police barriers.
At least 500 officials were involved in the widely dispersed protest. "The general mood has heated up," said a police spokesman. The demonstration began at 6 p.m. on Geschwister-Scholl-Platz, from where the participants marched down Ludwigstrasse.
Shortly after 8 p.m., some groups were on their way towards Marienplatz, and the emergency services tried to stop the gathering from moving – occasionally there were scuffles. Nothing was disclosed of any arrests. The car traffic on Ludwigstrasse was temporarily stopped because the demonstrators were on the road.
The actually registered demonstration of the measures critics with 5,000 participants had been temporarily prohibited by the district administration department. The organizers wanted to walk from Geschwister-Scholl-Platz in a wide arc through Schwabing and Maxvorstadt. Instead, the city assigned the protesters to Theresienwiese, where a stationary meeting with a maximum of 2,000 people was permitted.
They should be required to wear masks and keep a distance of one and a half meters. The organizers described these conditions as "unacceptable" and "inhumane" and canceled the planned move – some of them then gathered at Geschwister-Scholl-Platz.
Several thousand people met last week on Ludwigstrasse to protest against the Corona measures. Despite the ban, large groups moved through the city from there.
more on the subject – U-turn: majority of the German Ethics Council recommends corona vaccination