23 Dec. 2021 6:14 p.m.

A Munich police officer is said to have presented a forged vaccination card at his office. This now has consequences for the officer. He faces a prison sentence of up to one year.
A 57-year-old police officer is said to have presented his Munich office management with a vaccination card with two notes on the corona vaccination from a Munich vaccination center last month, reported BR24. A check would later have revealed that these entries in the vaccination card were forged. Investigations "into the use of incorrect health certificates" have now been initiated against the officer who, according to the police headquarters, is active in the field. As is customary in such internal investigations, these were taken over by the higher-level State Criminal Police Office. "The suspect was suspended from duty with immediate effect."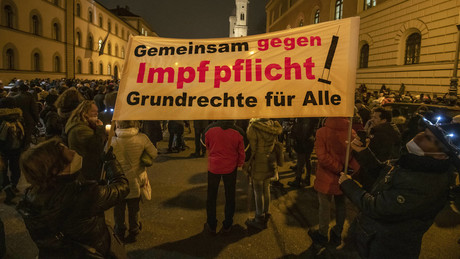 According to the news agency dpa was searched in the course of the investigation on Tuesday, among other things, his apartment. The investigators therefore visited at least two locations that are related to the crime.
With the beginning of the "traffic light coalition" was only recently a corresponding change in the law made, which says that the use of falsified vaccination certificates "in legal dealings" is a criminal offense. From now on, the term legal transactions defines business as well as business-like actions:
"Anyone who makes use of a health certificate of the type specified in §§ 277 and 278 to deceive in legal dealings will be punished with imprisonment of up to one year or a fine if the act is not threatened with a heavier penalty in other provisions of this section." (§279 StGB)"
According to dpa In addition to disciplinary proceedings within the police, the officer is also threatened with a fixed prison sentence of up to one year, according to a police spokesman on Thursday.
"Because of the rampant Omikron variant, the police authorities in North Rhine-Westphalia should change their duty roster by the turn of the year at the latest and form permanent shift teams," said so informed that Westphalia sheet. A "mixing of the staff" should therefore be avoided in the future as much as possible, it is said loudly dpa in a new decree of the Ministry of the Interior on the corona pandemic.
Interior Minister Herbert Reul (CDU) shared on Thursday the dpa with: "We in North Rhine-Westphalia are prepared in the event that many police officers could get sick. We have a vaccination rate of 96 percent, we boost, test, and we are restructuring the work: away from pool solutions to fixed duty groups. So let's avoid too many contacts and ensure that the police are still fully operational. "
more on the subject – Demonstration against Corona measures: Thousands again in Munich on the street