Arabic calligraphy is one of the elements of the visual aspect of the Arabic language, which was not present on the Kaaba at the beginning of the pride of Islam, to appear in the second century of AH, until it developed, as we see it today in its beautiful image.
The Saudi calligrapher of the covering of the Kaaba, Mukhtar Alem Shaqdar, who has been working for more than 44 years in teaching Arabic calligraphy and its arts, said in his interview with Al-Arabiya.net: He used the complex, clear thulth font to write verses on the garment of the Kaaba, where he wrote on the side of the piece ( In the name of God, the Compassionate, the Compassionate, Hajj is the most famous information, so whoever is obligated to perform Hajj, there is no obscenity, immorality, or argument in the Hajj), while in the corner in the middle it is written (In the name of God, the Compassionate, the Compassionate) in silver, and (Say, He is God, the One) in gold, while there is a lamp. He wrote, "Ya Rahmaan, Ya Rahim."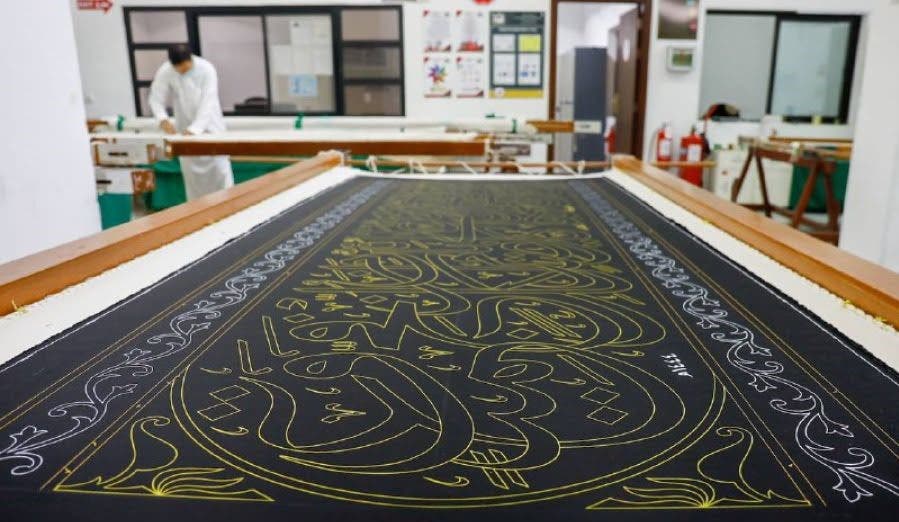 This is how the thuluth line appears on the Kaaba dress
Mukhtar added: The reason for choosing this type of Arabic calligraphy to write on the dress of the Kaaba is because it is the most appropriate, best, most beautiful, most difficult and most voluntary in forming, implementing and showing beauty. Full circle or on the shapes of lamps, and there are inscriptions in the dress of the Kaaba as well as in the thuluth script.