Just 24 hours after the Taliban announced they would resume issuing travel documents, hundreds of Afghans gathered in front of the passport office early Sunday morning in the capital, Kabul, in line to collect the document.
While the people stood waiting to finish their affairs, the Taliban fighters responsible for maintaining order in the place were busy dispersing small groups that were forming in the front of the line or near a checkpoint.
They declared that they did not want any suicide or bombing attack, expressing their fears of the danger of gatherings, according to a report published by Agence France-Presse.
The information also spotted ambulances that stopped at a nearby location, carrying patients who were unable to queue.
big pressure
The Taliban stopped issuing passports shortly after their return to power.
In October, the service resumed for a short period, but the influx of requests caused technical problems, prompting the movement to stop again after a few days.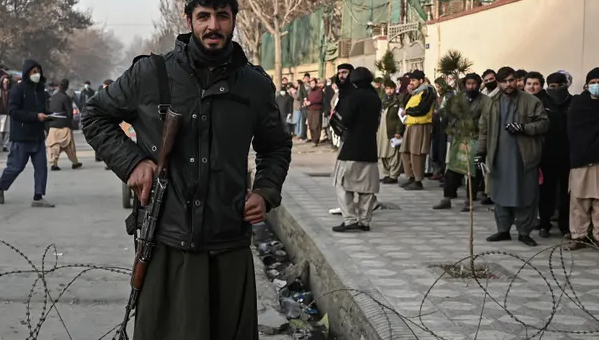 Queues to renew passports in Afghanistan (AFP)
Meanwhile, the head of the Passports Department, Allam Gul Haqqani, revealed on Saturday that all the technical problems have been solved and the biometric devices have been repaired, adding that passports will initially be issued to those who submitted applications.
He explained that the new applications will be accepted as of January 10 next.
Imminent famine and warnings
In addition, the resumption of the issuance of passports is a test of the goodwill of the Taliban, which has pledged to the international community to allow its citizens who wish to leave the country and hold valid visas, to do so.
According to the United Nations, Afghanistan is facing one of the worst humanitarian disasters in the world, and is expected to worsen with the onset of the cold winter.
In turn, the United Nations World Food Program warned of an impending famine.