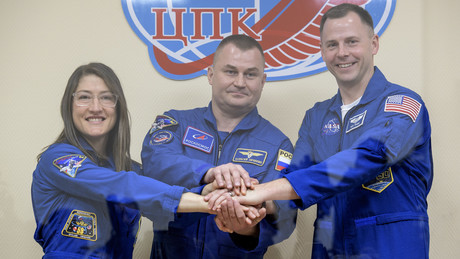 December 20, 2021 10:45 p.m.

The deputy head of the US research program on board the ISS said flights to the moon and Mars are unthinkable without cooperation with Russia. He stressed that US astronauts and Russian cosmonauts on board regularly exchange equipment for experiments.
Carrying out space missions to the moon and Mars will not be possible without the cooperation of the US National Aeronautics and Space Administration (NASA) with their Russian colleagues. Bob Dempsey, deputy head of the US scientific research program on the International Space Station (ISS), has this assessment in one Interview with the news agency TASS communicated. He said:
"We have a lot of cooperation. We will have to continue to do that if we continue to run the space station until its end and fly to the moon and Mars"

"We can't do that without working with the Russians. I think that will be part of it too."
According to Dempsey, it is common for US astronauts and Russian cosmonauts to exchange equipment for scientific experiments aboard the ISS. This is especially true of the plasma crystal experiment, in which fine dust particles are injected into a plasma, which turns the dust into highly charged particles. The NASA specialist said:
"We work together this way all the time."
At the same time, the Roskosmos cosmonauts Anton Schkaplerow and Pjotr ​​Dubrow, the NASA astronauts Mark Vande Hei, Raja Chari, Thomas Marshburn and Kayla Barron and the astronaut of the European Space Agency (ESA) Matthias Maurer are currently on the ISS.
more on the subject – NASA probe is the first spacecraft to touch the sun