The calligrapher of the Holy Qur'an, Othman Taha Al-Halabi, was granted Saudi citizenship, in honor of him and his pride in the service he provided to the Islamic world, by writing more than 15 copies of the Qur'an, and tens of millions of copies have been printed around the world. He also worked at the King Fahd Complex for the Printing of the Noble Qur'an in Madinah.
The family of the calligrapher of the Holy Qur'an, Othman Taha, commented to Al Arabiya.net, expressing their gratitude for granting their father Saudi citizenship, stressing that it is a great honor to serve the country of the Two Holy Mosques.
Othman Taha is considered one of the rare talents, experiences and specializations, who were granted Saudi citizenship with the aim of opening the door to naturalization of legal, medical, scientific, cultural, sports and technical competencies, thus contributing to promoting the wheel of development and benefiting Saudi Arabia in various fields.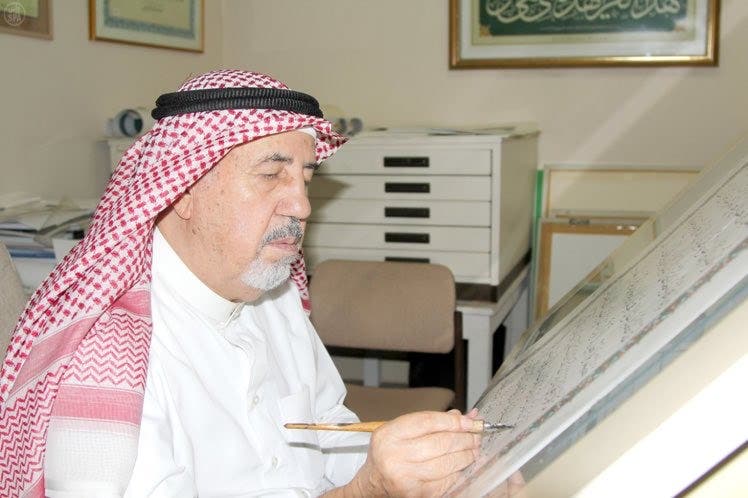 Osman Taha
Taha wrote the first Qur'an in 1970, and in 1988 he came to the Kingdom. He was appointed as a calligrapher at the King Fahd Complex for the Printing of the Noble Qur'an in Medina and a writer for the Qur'ans of the Prophet's city since 1988 AD. The Mushaf that used his font is distinguished by the fact that all pages end with the end of one of the verses.
The imam of the Grand Mosque in Mecca, Maher Al-Muaiqly, said in his Facebook post: "We congratulate the international calligrapher (Taha Othman), the calligrapher of the Noble Qur'an, for issuing the noble order granting him Saudi citizenship."
Othman Taha was known for his distinguished style of writing the Qur'an, as he got rid of many of the linear structures that impeded correct tuning, and relied on the method of simplifying the word, and gained experience in distributing words in one line so that the line ends as it began without crowding of words at the end, in order to That the page appear consistent and sparkling in terms of good arrangement and coordination.
It is noteworthy that Saudi Arabia granted its citizenship earlier to the Pakistani "Mukhtar Alam", the calligrapher of the covering of the Kaaba and the sheikh of the calligraphers of Mecca, in addition to several people with distinguished expertise, in its first batch since the Kingdom opened the door to naturalize competencies and experts, for their contributions in the cultural and intellectual fields. .