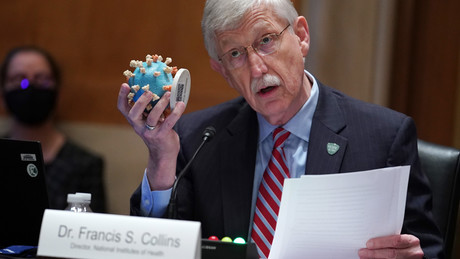 17 Dec 2021 8:51 pm

Francis Collins, the outgoing director of the US National Institutes of Health, has left his post in an unusual manner. At a farewell event, he sang a song about a future overcoming the COVID-19 pandemic.
The outgoing director of the National Institutes of Health of the United States (NIH), Francis Collins, caused a stir when he performed a COVID-19 cover version of "Somewhere Over the Rainbow" at a farewell event on Tuesday.
After the U.S. Department of Health (HHS) thanked Collins for his service, the NIH director pulled out a guitar and microphone and announced that he would play a grand finale for all Americans who have endured this pandemic. He wanted to imagine "what it will be like when we finally have this pandemic behind us".
Collins, who as director of the NIH since 2009 was also the boss of Anthony Fauci, started a song and sang:
"Somewhere after the pandemic, when we're free, I'll remember a lifetime of activity."

"At some point after the pandemic, the masks will go away. We no longer need a nasal swab every time we cough."
It wasn't the first time Collins had gotten noticed with a song about the coronavirus. He had previously recorded a parody of "Puff the Magic Dragon" entitled "Poof, coronavirus".
REPORT: This is Dr. Fauci's boss, Francis Collins. Director of the NIH. – Sings song about Coronavirus to the tune of 'Puff the Magic Dragon'. pic.twitter.com/et7BBbdUl3

— New Granada (@NewGranada1979) December 7, 2021
In October, Collins announced that he would step down at the end of the year after serving three US presidents for over 12 years. It was the longest tenure of any US president-appointed NIH director. In a statement, Collins said it was an incredible privilege to have led this great institution for more than a decade. The decision to resign was difficult for him, said Collins.
more on the subject – USA: Compulsory vaccination for private school teachers – Orthodox Jews are against it