The Heritage Authority in Saudi Arabia revealed the results of the excavations reached by a joint team between the authority and the Austrian University of Vienna at the site of "Qarya", which is one of the largest documented archaeological settlements in the Arabian Peninsula at all, and the village is walled with stones on an area of ​​300 hectares.
Thursday's excavations revealed that the Qaryat Al-Hadari Oasis was established 1,000 years earlier than the previous date, by following the latest multidisciplinary research methods.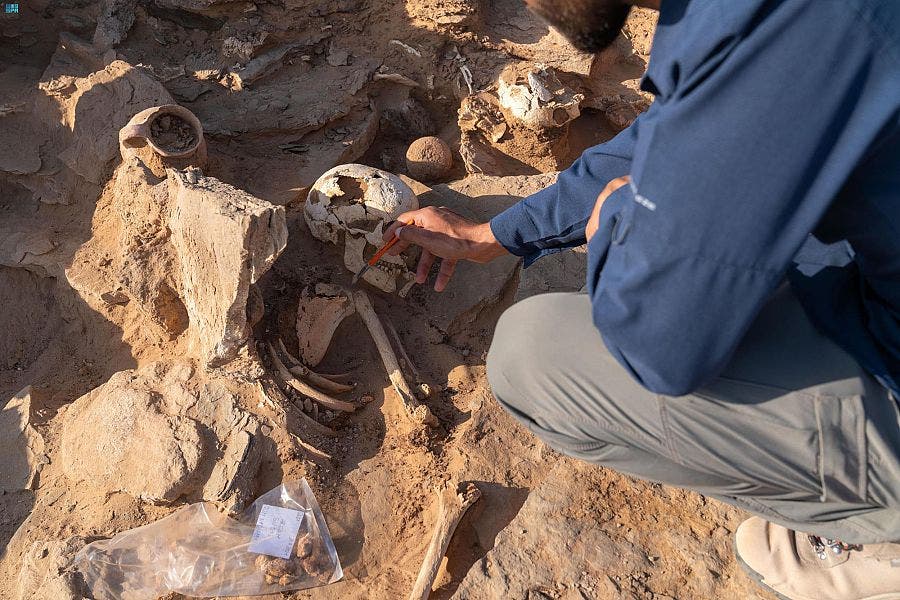 From the discoveries of the excavations
The third millennium BC
The settlement of "Qarya" is located in the Tabuk region, which is a residential city and an agricultural area. The joint team was able to determine its history in the third millennium BC (approximately 2900 / 2600 BC), i.e. in the Early Bronze Age, by focusing research and investigation along a wall The 13-kilometer-long oasis has been regularly sampled, dated and analyzed by radiocarbon and stimulated flash technology.
According to the Saudi Press Agency "SPA", the most important result reached by the research team before discovering the walls of a village, was finding a cemetery in the form of a circle of stones at the top of the plateau of the site in which more than twelve members of the elite (women, men and children) were buried and more than two others were buried with them. It included 1,000 beads and 8 assorted necklaces of clay, decorated ceramics, imported mother-of-pearl and shells, in addition to bones, ivory, precious stones and the like from agate, hematite, amazonite, transparent quartz, green stone, turquoise, and lapis lazuli. Gifts of colored pottery vessels, some of them and animal sacrifices, were also buried with them.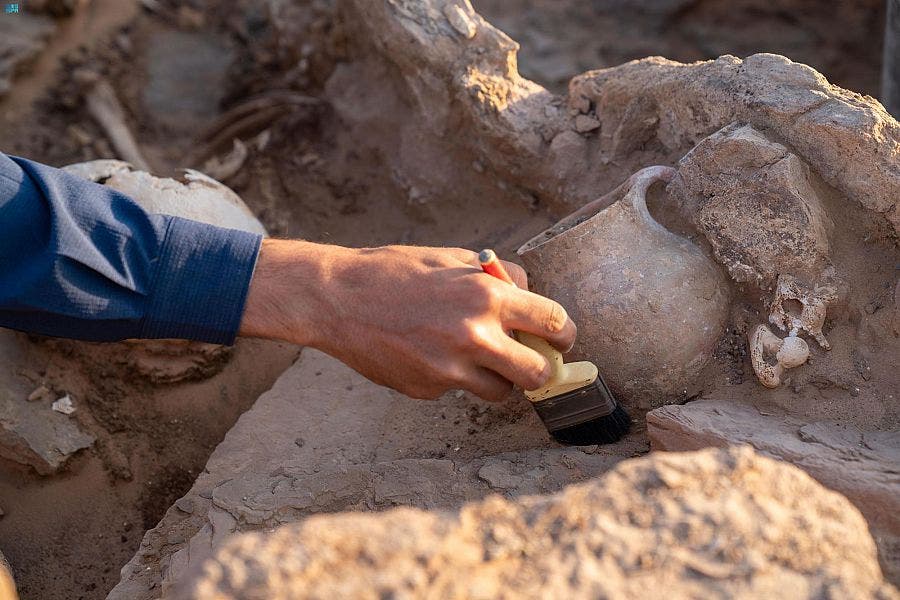 of excavations
central settlement
This discovery opens a new window on the history of northern Arabia, where its urban oasis was unique in its life and its inhabitants, taking advantage of the desert environment.
"Qarya" occupies great importance in history as a central settlement that lived three thousand years and developed its language and writing, until it became one of the most important centers in northwest Arabia during the Iron Age, as it was a commercial center and one of the trade routes linking north and south Arabia.