The Saudi graffiti artist, Aisha Asiri, seeks to put a cultural artistic imprint in the memory of places and facades of city landmarks within the Kingdom, noting that she asks for modest symbolic wages in exchange for her artistic effort as an initiative to participate in improving the civilized appearance in every municipality and governorate in the Asir region.
And without missing out on the assertion that the art of murals plays an important role in the cultural and civilizational exchange, and contributes to spreading the values ​​of tolerance and reconciliation among peoples.
In an exclusive interview with Al Arabiya.net, Aisha confirmed that plastic art in itself is an inspiring message to all societies of the world that celebrate heritage, identity and elements of civilization, and reduce the essence of customs and traditions in a painting carved on a wall.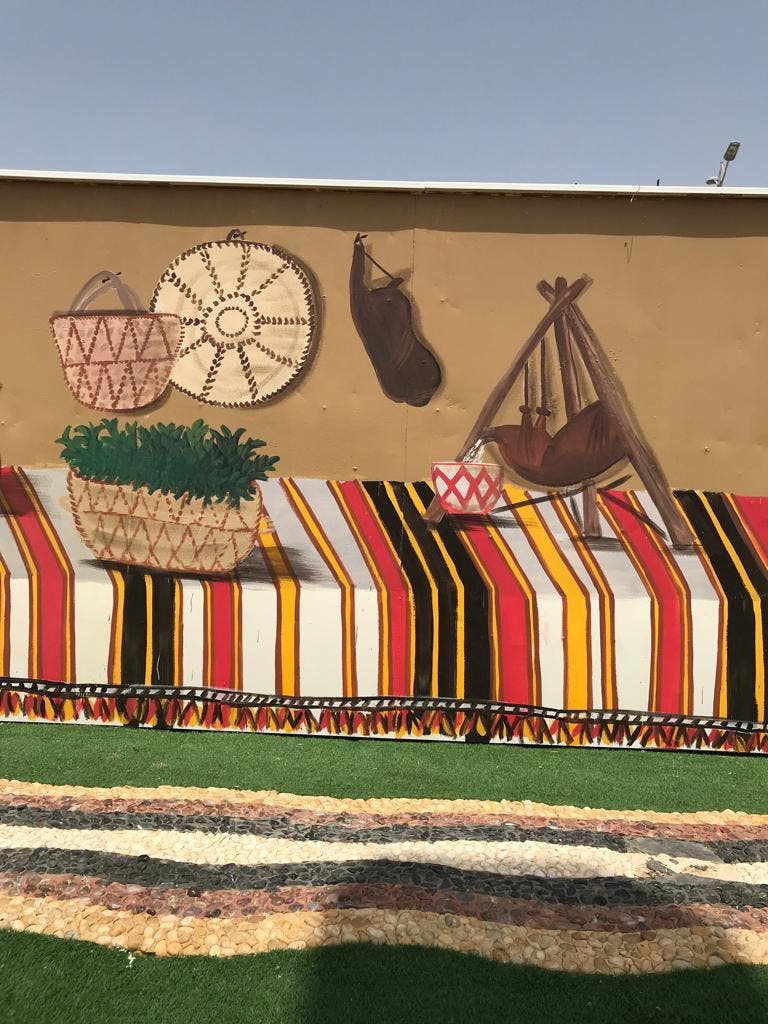 From the world of calligraphy to the streets of graffiti
Aisha's beginnings were from calligraphy, then she moved to formation and from there to murals, to create a unique creative case in the art scene in Saudi Arabia, where she explained by saying: "I was a young fan of portraiture and nature, and calligraphy was one of my most beautiful hobbies, I became professional in his arts for a long time, and then I moved To paint murals", to begin her journey in the world of graffiti, to receive giant projects in the municipalities, governorates, and universities in Saudi Arabia, because of the technical elements they possess that prompted those parties to cooperate with them as they are characterized by the accuracy of their work and their professional drawing style, in addition to their commitment to speed in achievement, which made them an artistic reputation and a creative reputation. Everyone has.
As a graffiti artist, Aisha was able to represent Saudi Arabia in international cultural forums, in all the Gulf countries, Egypt, Jordan, Morocco and others, pointing out that the state of graffiti art in the Kingdom lacks support for prosperity and spread among young people, and she hopes that it will witness development and produce promising youth talents who master new methods in line with the identity of and community values.
The murals are 50 meters long and 8 meters wide
Aisha created about 60 murals distributed throughout the Kingdom, most notably a serious mural in Mahayel Asir Governorate, a mural in Bariq, two murals in Khamis Al-Bahr in the same area, murals of ponds, and murals at King Khalid University in Tihama, noting that the first mural she implemented was an area of ​​75 meters, But she was able to complete it in 10 days.
She indicated that she executed about 18 murals in less than a month at King Khalid University, in addition to two murals, each 50 meters long and 8 meters wide, which she completed within a week. She also created two models from recycled materials for the Saudi League.
Creative evidence and an aesthetic interface in the memory of a community
Aisha is described as the first Saudi woman to work in the art of graffiti on giant spaces, where she climbs a crane and stairs, with a high degree of danger, but she conquered fear and defied difficulties, until she succeeded. Aesthetics in the community's memory.
Aisha employs her murals to serve heritage and culture, bearing awareness messages to the community, considering that the mural presents a new method for purposeful and influential awareness in the lives of communities.
She added: "Yes, my murals always present a message to the community. For example, I have a mural that I presented as an integrated museum to introduce generations to the heritage of our ancestors. Today, it has become a permanent site for tourists from inside and outside the region, and I implemented a mural that I designed to simulate the Saudi National Day. It was a reason for choosing me to implement upcoming projects because of its aesthetic radiation She sparkles with unique patriotic feelings.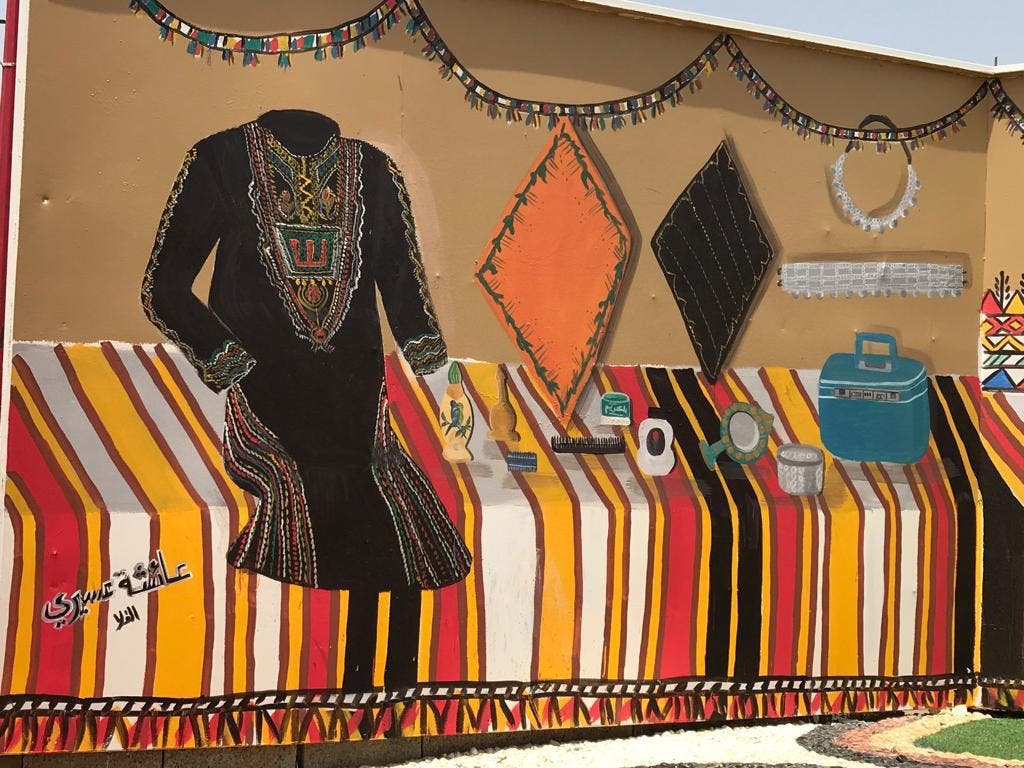 A journey of challenge and a journey of success
Aisha did not expect the size of the echoes and impressions that engulfed her after each mural that she implements in a specific area, where she receives words of admiration and praise from members of the community.
According to Aisha, the world of graffiti, despite its fun, is still new in the Arab region, and its challenges lie in its being a new artistic style, in addition to the lack of acceptance by some societies that a female paints in the streets in front of the gaze of passers-by, but Aisha was able to gain the respect of everyone in her community. After they watched her defy dangers in the most difficult places to produce murals bearing her signature on the facades of vital areas and many cities in the Kingdom, leaving her colors to add a spiritual joy to the places.
Plastic imprints that mimic the vision of the Kingdom 2030
Aisha hopes to receive projects in the airports and in the city of NEOM, whether to make murals or artistic designs, and seeks to leave a plastic imprint in every tourist area in line with the Kingdom's vision 2030.
Aisha reveals secrets about the stages of producing the graffiti murals, saying: "What society does not know about the scenes of this art is that the artist exerts great physical effort and mental focus, to implement a painting that etches the memory of the place to remain an aesthetic masterpiece that catches the eye, and that any painting with giant spaces is tantamount to An artistic garden in which eyes, hearts and thoughts wander.
Aisha participated in local and international exhibitions, and won many awards, most notably winning first place in plastic art with MBC in Taif, on a creative trip around the Kingdom in 2021, and won first place in charcoal and lead painting at the "Khamis Al Bahr Festival" in 2021, and the Center Second in the Classic Cars Art Competition 2020, and she won first place in the Taif Direct Painting Competition 2018, and she is proud of all these stations.