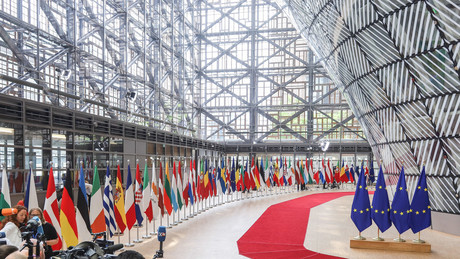 17 Dec 2021 10:17 p.m.

The heads of state and government of the 27 EU member states unanimously decided at a summit in Brussels to extend the sectoral economic sanctions against Russia by six months. Russia announces countermeasures.
At a summit meeting in Brussels, the European Union unanimously decided to extend the economic sanctions imposed on Russia because of the ongoing conflict in Ukraine. this shared the President of the European Council Charles Michel on Twitter with:
"We call on Russia to keep its end of the bargain and to push ahead with the implementation of the Minsk Accords."
Following the meeting, the European Council called on Russia to ease tension on its border with Ukraine caused by "military build-ups" and "aggressive statements". The Council also expressed its absolute support for the sovereignty and territorial integrity of Ukraine.
Russia did not leave the whole thing without an answer. Moscow considers the extension of EU economic sanctions against Russia to be illegal, according to a statement by Dmitri Peskov, press spokesman for the Russian President. He assured that Russia "has a whole range of countermeasures that work". These are to be continued at the same time as the EU sanctions. In addition, Peskow emphasized:
"Above all, sanctions have never led the initiators anywhere to achieve their goal."
Despite billions in losses for European companies, the EU imposed financial and economic sanctions on Russia in 2014. The punitive measures were primarily based on the reunification of Crimea with the Russian Federation. These were introduced after the crash of a Malaysian plane with almost 300 people on board over eastern Ukraine in July 2014. The sanctions were last extended in July 2021 to January 31, 2022. Now they will apply until the end of July next year.
more on the subject – "Otherwise it will be too late" – Zelensky calls for immediate sanctions against Russia