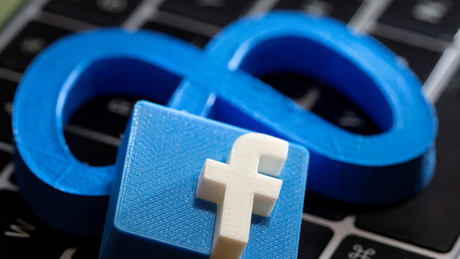 the US-Technologieriese Meta, which includes Facebook and Instagram, among others, has uncovered massive surveillance actions. Users were passively spied on or addressed directly in order to induce them to divulge sensitive information. As a result, malware was smuggled onto their devices, the company reported on Thursday.
A total of seven companies are said to have given the order for monitoring. According to Meta, they are only a small part of a burgeoning surveillance industry that seems to be thriving thanks to the networking of social media. The surveillance on behalf of customers is "indiscriminate" and is directed against so-called dissidents, journalists, human rights activists and others.
The seven now banned actors were identified after months of investigation. They operated in over 100 countries and targeted around 50,000 people. Meta said it will warn those affected:
"To prevent these activities, we blocked the associated infrastructure, banned these actors from our platform and issued cease and desist statements. We also shared our findings with security researchers, other platforms and political decision-makers so that they too can take appropriate action."
Six of the targets were identified as private security companies: Cobwebs Technologies, Cognyte, Black Cube, Bluehawk CI, BellTroX and Crytox. Hundreds of accounts associated with each of these companies have been suspended, according to the company.
Israel-based Black Cube gained notoriety after it was accused of prosecuting victims of sexual harassment by former Hollywood producer Harvey Weinstein. Black Cube rejected Meta's allegations of malicious activity.
While presenting the results of Meta, security chief Nathaniel Gleicher also drew attention to a recent investigation by Citizen Lab, in which the previously little-known North Macedonian company Cytrox was accused of having infected the phones of Egyptian dissidents with its spy software Predator.
Cytrox is reportedly part of an alliance aimed at fighting Israel-based NSO Group, the maker of the Pegasus espionage program. NSO hit the headlines around the world that year for its allegedly unethical work for repressive governments and was sanctioned by Washington in November for this.
The coverage of another banned organization was highlighted by Mike Dvilyanski, head of the cyber espionage investigation at Meta, who co-authored the report with Gleicher and David Agranovich, head of Facebook's global threat mitigation department.
The Israeli company Bluewahk CI is said to be the correspondent of Fox News and as a journalist for the Italian newspaper The print spent to aid the ruler of an emirate in the United Arab Emirates in a lawsuit, according to a report by Daily Beast.
The seventh target of Meta's cleanup operation was described as an "unknown organization" accused of using "malware tools" against minority groups in China's Xinjiang region and Hong Kong, and Myanmar. The organization was allegedly involved in "domestic law enforcement" in China, according to Meta. The meta-investigators hoped the report would help people better understand "the damage this industry is doing around the world" and called on "democratic governments to protect people and oversee vendors of ubiquitous espionage programs." to impose. "
In particular, he welcomed a joint statement recently issued by his former White House colleagues and US allies Australia, Denmark and Norway, who spoke out against electronic surveillance by "authoritarian governments". Before joining Meta's team, like Agranovich, he worked on the US National Security Council. Dvilyanski, the third author on the report, is a former FBI cybersecurity agent.
more on the subject – Terrifying but true: US intelligence services can secretly retrieve deleted messages