16 Dec. 2021 7:03 p.m.

After several demonstrations against the Corona measures had taken place nationwide on the weekend and on Monday, 3,700 participants protested on Wednesday not far from Munich's old town, according to official information – mostly peaceful.
On Wednesday evening in Munich on Ludwigstrasse, north of the city center, around 3,700 people demonstrated against the Corona measures, such as the Southgerman newspaper reported.
Most of them followed another call for a demonstration by the group "Munich stands up". The demonstrators shouted slogans against what they believed to be a threatening "dictatorship" and, above all, raised the mood against the threat of vaccination. Local participants called the demonstration "a civil rights movement the likes of which the world has never seen".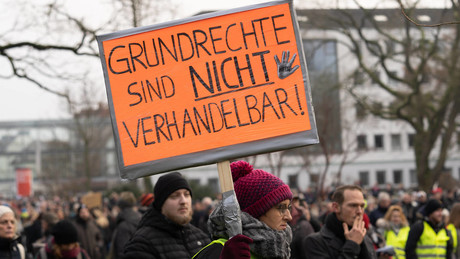 The event in Ludwigstrasse was about to officially end when around 500 of the 3,700 participants, according to the police, made their way to the city center together, like the BR announced.
The 400 police forces deployed were initially unable to follow the unregistered demonstration. The group moved across streets and squares to Stachus and from there via Sonnenstrasse in the direction of Sendlinger Tor. At around 9 p.m., the police said they could register a stationary event on site or go with packed rally equipment. Thereupon the unannounced meeting broke up.
I work for the ÖRR, I only come across 98 demonstrators, most of them Nazis, Reich citizens and climate deniers! 😉

— Gecko 🟢 ❌ (@Soedolf_) December 15, 2021
The police's balance sheet: 18 people were reported due to recognizable violations of the mask requirement. Another 28 people were arrested on charges of libel or assault. A drone pilot who was piloting his aircraft over the assembly area was reported for violating the Aviation Act. The chairman of the meeting is being investigated for holding a meeting that has not been reported.
more on the subject – Nationwide, tens of thousands are protesting against corona measures by the state