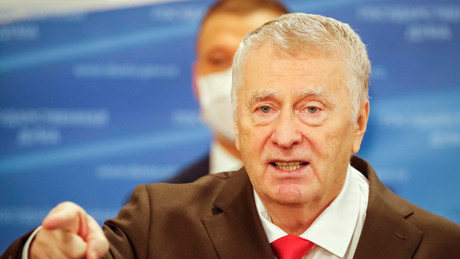 16 Dec. 2021 8:42 pm

The chairman of the Liberal Democratic Party of Russia (LDPR) Vladimir Zhirinovsky plays it safe when it comes to corona protection. In the meantime, the Russian politician has already received his seventh injection against COVID-19, as he himself reported via Telegram.
On Wednesday, Zhirinovsky, known for his populist views and confrontational political style, posted a video on his Telegram channel showing the 75-year-old being given another corona booster vaccination. While he had previously been vaccinated with Sputnik V, this time he opted for another Russian corona vaccine CoviVac from the Chumakov State Research Center for Immunobiological Preparations of the Russian Academy of Sciences, wrote Zhirinovsky in an accompanying text. It is a classic inactivated virus vaccine – "a technology that has proven itself over decades". The politician added:
"Overall, this is my seventh injection since September 2020. And I haven't had the coronavirus once, I feel good."
In addition, Zhirinovsky regretted the refusal to vaccinate a large part of the Russian population and warned of serious consequences. He appealed to his fellow citizens:
"Get vaccinated, friends."
Since less than half of Russia's population is now vaccinated against COVID-19, the authorities have repeatedly made this appeal to the citizens of the country. Russian experts recently argued that regular booster vaccinations have not yet been shown to be necessary to protect against severe COVID-19 cases.
more on the subject – Gamaleja Center advises against COVID-19 booster vaccination every three months following Pfizer's recommendation