15 Dec 2021 10:42 pm

In the background of the tense situation surrounding the Ukraine crisis, Chancellor Olaf Scholz and French President Emmanuel Macron met with Ukrainian President Vladimir Zelensky. The main topic on the agenda was the implementation of the Minsk agreements.
On Wednesday, Chancellor Olaf Scholz and French President Emmanuel Macron met with Ukrainian President Vladimir Zelensky in Brussels. The talks took place in the background of the ongoing tensions between Ukraine and the western states on the one hand and Russia on the other hand because of the alleged Russian threat to the neighboring state.
Before the trilateral deliberations, the newly appointed Chancellor Scholz and Zelensky met at first in pairs. Macron later joined the two politicians. Above all, the talks are said to have dealt with the implementation of the Minsk agreements to resolve the conflict in eastern Ukraine.
Work on a resumption of the Normandy format, it was then said from Élysée circles. The Ukrainian President is said to have been made clear during the meeting that Kiev must do everything possible to prevent Moscow from accusing him of a lack of willingness to cooperate.
Zelensky told journalists in Brussels on Wednesday evening that the current situation around Nord Stream 2 should help him meet with Russian President Vladimir Putin.
In the run-up to the talks with Zelensky and Macron, Scholz had warned Russia in a government statement in the Bundestag against the invasion of Ukraine and was thus convinced that it could really take place. Scholz literally:
"Any violation of territorial integrity will come at a price, a high price."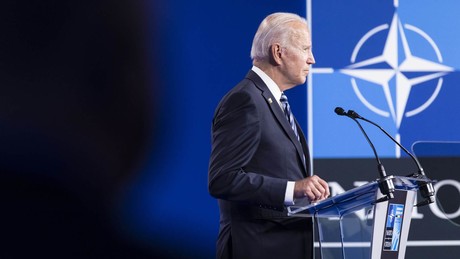 The EU and the USA are threatening Moscow with new, even tougher sanctions because of the allegedly planned aggression against Ukraine. Above all, Russia is accused of concentrating troops near the border with Ukraine. Meanwhile, Russia is concerned about the maneuvers of US and NATO warships in the Black Sea and suspects provocative intentions on its part. In this context, Moscow fears possible preparations of Kiev for a large-scale offensive against the self-proclaimed republics of Donetsk and Lugansk.
The three-way conversation between Scholz, Macron and Selenskij took place on the sidelines of a summit meeting of the so-called Eastern Partnership of the EU. This format was organized to further strengthen the links between Armenia, Azerbaijan, Georgia, Moldova and Ukraine to the EU. It should be noted that the cooperation agenda in the framework of the Eastern Partnership does not include prospects for EU accession. The EU has been holding back on this issue for years, despite the expressed hopes of Ukraine and Georgia. However, the program includes an economic and investment plan with a budget of 2.3 billion euros.
More on the subject – Baerbock against Nord Stream 2: Can not be approved like this