Dec. 15, 2021 3:04 p.m.

Former Japanese Prime Minister Shinzo Abe warns of an escalation in the China-Taiwan conflict. Should it come to an attack on ships of the US military, Japan would see this as a danger of survival and react with a "collective self-defense".
Japan pledges support to its ally, the USA, and warns its common rival, China. Former Japanese Prime Minister Shinzo Abe took advantage of set the stage for a virtual event by a Taiwanese think tank to make it clear that an attack on US naval ships would not be tolerated. He also repeated his message to Beijing on a television broadcast to the general public:
"In the event of an attack on a US ship, it could be a situation that threatens the very survival of Japan, which would allow collective self-defense to be practiced."
For China, Taiwan is a breakaway province. Beijing is accused of expanding military activities not far from the Taiwanese coast in recent months and trying to put pressure on Taiwan. To a chinese invasion one does not believe in Taiwan meanwhile.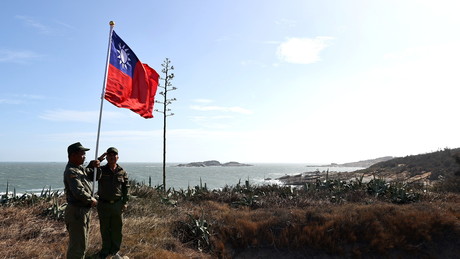 You see yourself adequately protected by the nearby military bases of the USA and Japan. More than 80,000 US soldiers are stationed in Japan and South Korea. In southern Okinawa in Japan, the population is not convinced of the advantage of the troop presence. There are protests here again and again. This is due to safety concerns from environmental damage, reports of rape by US soldiers, and accidents. In Taiwan, they arm their own military. Billions are currently flowing into modernization. For example, precision weapons such as long-range missiles are added to the defense arsenal.
Abe made the geographical proximity between Japan and Taiwan clear using the example of the island of Yonaguni. This is only 110 kilometers from Taiwan. An attack there would be critical and the US military would receive logistical support. Abe stepped down as prime minister in 2020 but continues to lead the Liberal Democratic Party (LDP) of Japan. Abe had always advocated strengthening his country's right to self-defense. After Japan surrendered, the US forced a pacifist constitution on the Japanese. The constitution actually forbids an army of its own. Japan then called an army into being, which operates under the title: "Self-Defense Forces".
Under Protest Beijing Taiwan also receives support from Europe. French government officials traveled to Taiwan this week to discuss relations with Paris and the EU. A similar trip in October prompted the Chinese side to declare that it was against any official form of political exchange between Taiwan and countries that have diplomatic relations with China. Taiwan was the subject of a virtual conference between Chinese President Xi Jinping and US President Joe Biden. The Chinese side emphasized that Taiwan is always looking for the support of the Chinese side in its quest for independence.
More on the subject – Beijing: US abuses "democracy" as a weapon of mass destruction