Dec. 15, 2021 7:25 am

A Moscow jury has convicted four members of a drug trafficking ring in a spectacular criminal case for smuggling cocaine from Argentina to Russia. At the same time, however, the jury found that the defendants had also "deserved indulgence".
In a lengthy trial of a huge cocaine discovery in a school belonging to the Russian Embassy in Buenos Aires, four defendants of a smuggling ring were found guilty by a Moscow jury, shared the news agency Interfax on Monday, citing a Moscow district court with. The network is accused of attempted smuggling of intoxicants as well as attempts to illegally manufacture, distribute or ship intoxicants on a particularly large scale.
However, the jury pleaded that the defendants "deserved indulgence," according to the verdict. As a result, they no longer face life imprisonment – which would be the maximum sentence that could be charged with attempted drug smuggling. The district court is due to discuss the verdict on Thursday.
According to the investigators, a Russian drug trafficking ring was excavated in December 2017 as part of an international special operation. Three members of the network were caught red-handed while receiving a drug shipment in Moscow. This had previously been discovered in the Russian embassy in Buenos Aires and completely replaced by parcels of flour. In total, more than 360 kilograms of cocaine, which could have been intended for the Russian or European market, were confiscated during the operation.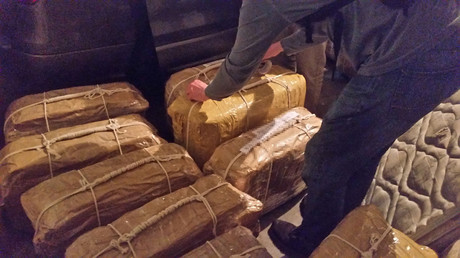 The alleged mastermind of the smuggling, Andrei Kovalchuk, was placed on the international wanted list in the absence of Russia because of similar allegations. In March 2018 he was arrested in Berlin, whereupon he was extradited to Moscow at the end of July at the request of the Russian Public Prosecutor General and taken into custody there. All four defendants denied the allegations.
Kovalchuk's defense lawyers alleged that her client saw himself as the victim of a provocation organized by the Argentine police, with the support of US intelligence services, to discredit the Russian diplomatic mission. The businessman who, according to media reports, has connections with the Russian security services had also insisted that the suitcases found in Buenos Aires at the time contained coffee, alcohol, gifts and personal items instead of drugs.
more on the subject – Cocaine seized from the Russian embassy in Argentina was burned