14 Dec 2021 7:35 p.m.

Armenia and Turkey each want to appoint representatives to normalize their conflict-ridden relations. Relations between the two countries have been strained for decades, as Ankara has so far refused to recognize the massacre of Armenians by Ottoman troops in World War I as genocide.
After years of diplomatic ice age, Turkey and Armenia reportedly want to grow closer again. Armenia is ready to normalize relations, the Ministry of Foreign Affairs announced in Yerevan on Tuesday. Ankara had previously announced that both countries wanted to appoint special envoys to coordinate further steps.
The Turkish Foreign Minister Mevlüt Çavuşoğlu announced in parliament on Monday that Turkey would also resume charter flights between Istanbul and Yerevan. The borders between the two countries have been closed for decades.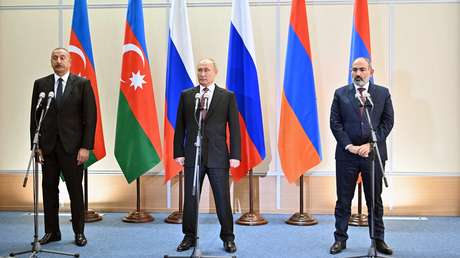 Turkey has close ties with Armenia's rival Azerbaijan. The most recent attempts to normalize relations between the two states come barely a year after Turkey intervened militarily in the 2020 Nagorno-Karabakh war. Turkey played a key role in Azerbaijan winning this war. According to Armenia's Prime Minister Nikol Pashinyan, it was Turkey's fault that the dispute over the Nagorno-Karabakh region in the South Caucasus turned into a military conflict in the first place.
Relations between Armenia and Turkey are not only strained by the recent past. During the First World War, Armenians were systematically persecuted and killed. As the successor to the Ottoman Empire, Turkey admits the deaths of 300,000 to 500,000 Armenians and regrets the massacres. However, Ankara rejects classification as genocide.
The US under Barack Obama played a key role in a peace agreement between Turkey and Armenia in 2009. However, pressure from Azerbaijan caused Ankara to put the deal on hold. Relations have been strained ever since.
It remains to be seen whether diplomatic relations will be established with the reopening of the borders. Azerbaijan also no longer seems to oppose peace between Turkey and Armenia. Armenia and Azerbaijan have been fighting over control of the Nagorno-Karabakh region for decades. In autumn 2020 they had fought violent battles for weeks. More than 6,500 people were killed.
More to the theme – Skirmishes between Armenia and Azerbaijan: Yerevan calls on Moscow for military assistance