A Saudi young woman fulfilled her dream of owning a "school bus", because of her strong attachment and love for it, so she presented it on Al-Dahna Street in the Al-Sayad area, as part of the King Abdulaziz Camel Festival.
The young woman, Sarah Al-Subaie, told Al-Arabiya.net her story with the bus, saying: "Since I was young, I loved riding the school bus, and if I missed the bus one morning, I would cry. Out of my love for it, I used to say when I was young: When I grow up I will buy a bus, and I will open my own business with it. ".
She added: "After my marriage, I proposed this idea to my husband, who supported me in it. Indeed, we went to the "Haraj" market and bought a school bus, and then we took it to the workshop to make the necessary modifications to our project. Every day we went to the workshop to inspect the repairs and modifications, to the point where we spent hours in the workshop without To feel the time, but after the end of the working hours we would lay our carpet near the bus and talk about our project."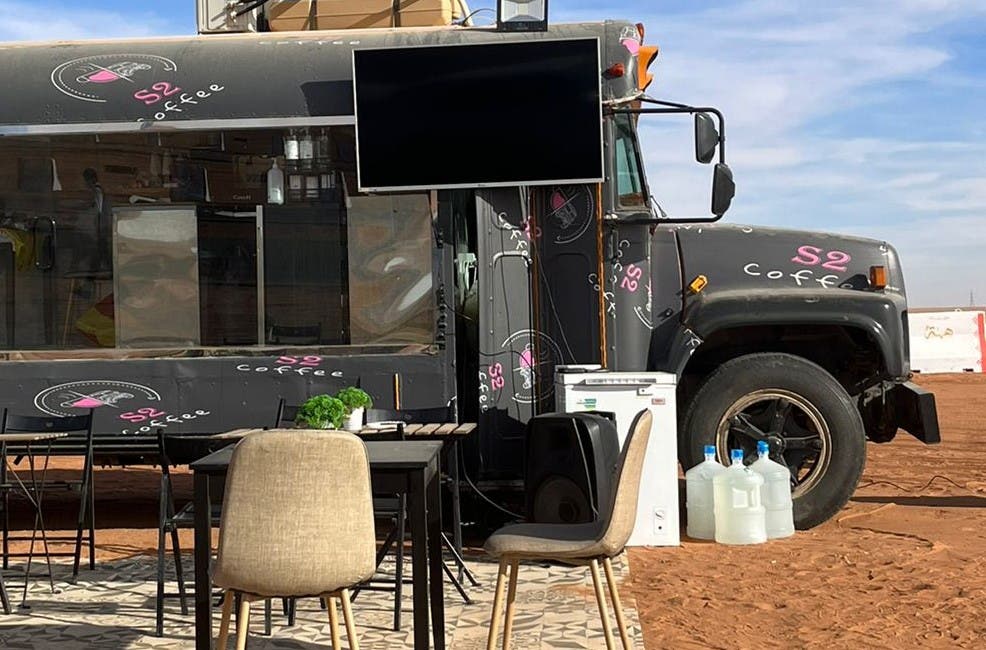 Sarah's bus that I converted for a project
She continued, "After we finished the preparation stage, we hoped to participate in the Riyadh season, but we were unable to do so, so we went to one of the streets of Riyadh and opened our project, a mobile cafe, there, and it was very popular. A number of customers told us that we should take the bus. To the King Abdulaziz Camel Festival, where we will find coffee lovers of all kinds.
And she continued, "Indeed, we prepared ourselves and moved to Ramah, specifically to Al-Dahna Street in Al-Sayad. From our first day there, we found an unparalleled turnout from festival workers and visitors, and coffee connoisseurs, whether Arab or foreign."
Sarah Al-Subaie concluded her conversation with "Al Arabiya.net", saying: "Praise be to God, my dream came true to spend my whole day inside my school bus."