The Coordinating Council of Trade Unions for Workers in the Ministry of Education announced that security forces attacked a protest gathering of male and female teachers demonstrating in front of the Iranian parliament on Monday.
Videos posted on social media monitored security forces attempting to arrest a protester, but they were met with a reaction from the teachers participating in the gathering.
The teachers, who attended the gathering, chanted slogans, chanting their demands, including "The imprisoned teachers must be released." On December 11, the authorities arrested a number of teachers, including civil activist and Teachers Syndicate member Rasoul Badaki, after they beat him.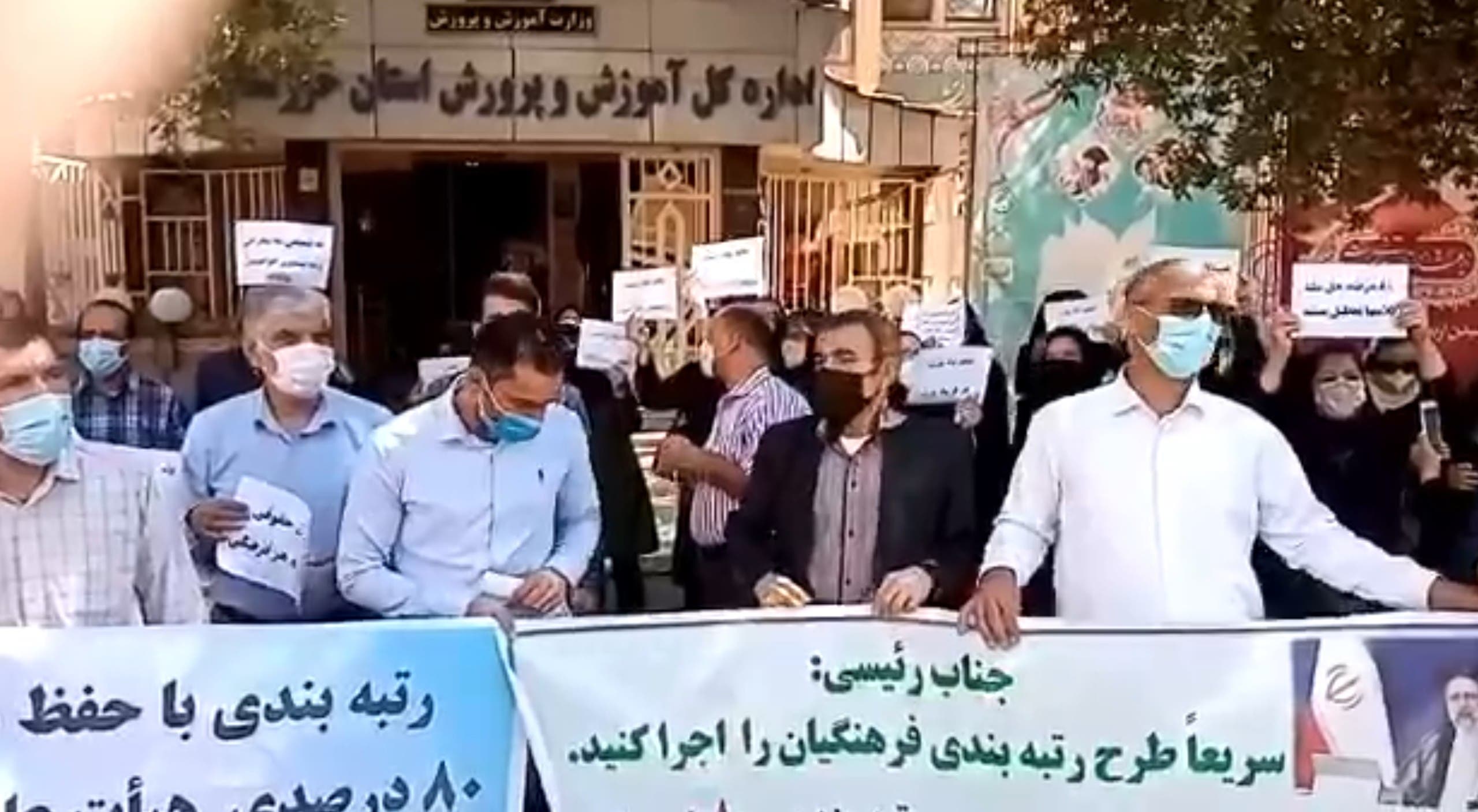 Teachers' protests in Tehran, October 3, 2021
According to reports, for three days, about 70 Iranian cities have witnessed protest gatherings during the new round of protests, which are repeated from time to time to demand a plan to classify the salaries of workers in the Ministry of Education to reach 80% of the salaries of workers in higher education, so that this large and influential segment in Iran from covering the requirements of living life affected by the complications of inflation.
According to reports received and videos posted, teachers and employees of the Ministry of Education gathered in Tehran, Abadan, Shiraz, Ahvas, Kermanshah, Tabriz, Qom, Rasht, Kerman, Isfahan, Sanandaj, Mashhad and other cities.
Protesting teachers accuse the government of Iranian President Ebrahim Raisi and Parliament of not fulfilling the promises made to them in order to eliminate their living problems.
These large gatherings of teachers came shortly after the government presented the draft budget to Parliament on Sunday. The teachers assert that the government wants to "plug" the issue by allocating a budget of 12.5 thousand billion tomans to deal with teachers' demands to raise their salaries to 80% of workers in higher education.
According to Chapter VI of the Document of Fundamental Transformation of the Education Sector, which was approved by the Supreme Council of the Cultural Revolution in 2011, teachers' salaries should be determined on the basis of their levels, but this plan has not yet been implemented.
If the job classification plan is approved and implemented, the basic salary and benefits for teachers will amount to 80% of the salaries of university faculty.
Teachers' protests have a long history in Iran, and alongside the working class, they constitute the most important internal pressure force, so the authorities treat this segment with caution.
On November 11 of this year, teachers in about 50 Iranian cities participated in large gatherings, and the authorities launched a campaign of arrests in some cities, especially Tehran. With inflation and commodity prices on the rise in recent years, the Iranian Ministry of Cooperation announced last month that one in three Iranians lives in "extreme poverty".
In its annual report issued last July, the World Bank pointed to the possibilities of increasing poverty and exacerbating inequality in Iran, and stressed that recent stagnation and high inflation have pushed a large number of Iranians below the poverty line.